I don't know about the rest of you, but I'm looking forward to this spring far more than I did last spring. At this point in 2020, I still had no full understanding of what lay ahead—except it wasn't going to be good.
Thankfully, there seems to be relief in sight. My husband and I are scheduled for our first Pfizer vaccine next week, we're both healthy, our families are healthy, and he still has a job. That's about as much as I can ask for these days. Well, that and great reading. I'm greedy, but it looks like there are lots of options. I'm covering a variety of genres from literary to light to Greek mythology (of course!).  Let's dive in.
Of course, I have to start with a book with a diver on the cover. Never waste a pun! The cover is only one reason I'm interested in Love in Case of Emergency. It's a German author's first novel in the U.S. The premise is fairly vague, but is about five women jumping off the edge of one stage of life into another. I'm thinking a literary exploration of women and friendship a subject that always interests me. (April 6, Harper)
I've been a huge fan of Paula McLain for a long time so am very happy to see she has a new novel out. From what I've heard, When the Stars Go Dark is different than any of her previous books. Set in Northern California it's a packed psychological drama involving a female missing persons detective who experiences trauma in her own life that leads her to move back to her home town. She arrives just as a teenage girl goes missing. I am so curious to how McLain handles a dark thriller. (4/13, Ballantine Books)
The Good Sister is the first of my 'twin' choices. What is it that fascinates us so much about twins? I don't know, but they were a trend starting 2019 and are continuing strong in 2021. In this case, there's a good twin, bad twin scenario about sisters fighting against a common enemy—an abusive mother. Now as adults making life decisions it seems as if they may have been keeping secrets from each other as well. Oh, the potential for drama!  (4/13, St. Martin's Press)
My second twin novel is Mirrorland. This one's is going with estranged twins who grew up in a mansion in Edinburgh. Mirrorland is the imaginary place Cat and her sister El created as children. Now El who married and was living in the mansion has gone missing and Cat must go back to the place she'd rather forget. This sounds gothic and is described by Stephen King as "devious". Yes! (4/20, Scribner)
I haven't read anything by Chris Bohjalian in a while, but when I saw he was tackling Boston at the time of the Salem witch mania my curiosity was piqued. Hour of the Witch is about a young English woman married to an older abusive man. She's desperate to divorce him but as a woman who speaks her mind, believes in the healing power of herbs, she's also terrified of being called a witch. Events come to a head when a patient she treats dies. (5/4, Doubleday)
My choice of this novel will come as no surprise to anyone who even remotely knows me. Ariadne is a debut novel taken straight from Greek mythology. One of my favorite books of the year so far is A Thousand Ships, a story of the Trojan women, so I'm all ready to read about Ariadne, a princess living in Crete, whose half-brother is the Minotaur. A fearsome monster, he requires an annual blood sacrifice. This particular year is Theseus, a prince from Athens. Ariadne falls in love and must decide if she betrays her family or lets her lover die. Of course, vindictive gods and goddesses wreak havoc as well. (5/4, Flatiron Books)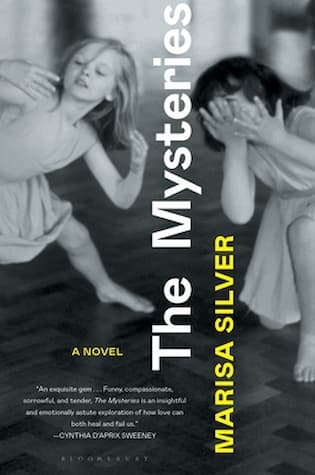 One of the other things I like almost as much as mythological Greeks, is smart and fierce little girls. The Mysteries, of course, like any good literary fiction, is going to push this concept further with 7-year-old Maggie determined not to be left out of adult secrets and pulling her quiet, well-behaved friend along with her. Something will go wrong, but I'm looking for something beyond a thriller-type novel and more of an exploration of the world of children, adults, and accountability. (5/4, Bloomsbury)
Love and Fury is a choice coming out of left field for me. It's only my second historical novel this spring, but it's about the lives of two women—one very well-known to me, the other not at all. Set in the late 1700s, Mary Wollstonecraft is about to give birth to a daughter, Mary Shelley, who would grow up to write Frankenstein. The daughter I know, but Wollstonecraft was an author as well and a vociferous advocate for women's rights. In the 1700s! The novel covers the brief span of days as daughter is born and mother dies. I'm very anxious to read this novel about two extraordinary women and of their brief time together. (5/25, Flatiron Books)
That's what I've got for spring reading. If you want more ideas, I discuss 5 different books with my friend Sarah on her podcast. She's got great recommendations as well, so click here to check it out.
Related Posts