The Other Typist
by
Suzanne Rindell
Published by
Penguin Books
Publication date:
January 2nd 2014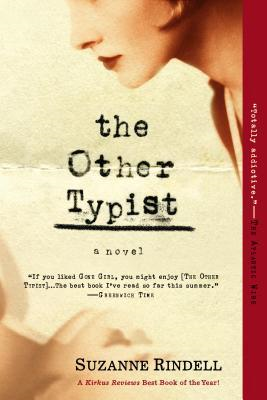 Suzanne Rindell sets her novel The Other Typist in 1920s New York City where Rose is one of a new kind of working woman, earning her living as a typist for the police department. She is an orphan living a quiet simple life despite working in a job that exposes her to some of the roughest men in the city. When Abolition begins, the department needs additional typists as political pressure means increased arrests for anyone caught with alcohol. Odalie is one of the new typists and a source of fascination for everyone in the department due to her expensive clothes and elegant appearance. Rose in particular is mesmerized.
With a world view that is sour and sanctimonious Rose believes that those who have the nice things she's never had are weak and venal for wanting them. In this way, she is an easy target for the seductive glamour of Odalie, who is everything she is not.
Her background of religion and poverty make her so rigid in her beliefs that she has no ability to bend to keep them intact and so when Odalie beckons, with her plush apartment, dinners out, and the life of a Jazz Age girl, Rose cannot resist. In this way, despite her eagle eyes and a mind that calculates every action as being either good or evil, she does not slide into a more dissolute life, she crashes. And as Odalie's lies pile up around her, Rose herself begins to compromise the prudish values she holds dear. We watch as her straight edges blur with every night out and borrowed silk gown.
They may say whatever they want about me and they do. They refuse to believe she might have bewitched me, but I can think of no more fitting word by which to describe the effect Odalie had on me. Simply put, I have met no one more magnetic than Odalie, and I doubt I ever will.
Even when she figures out that Odalie is involved in the speakeasy business she doesn't turn away from her new found benefactress. When Odalie goes from giving to taking, Rose feels she has no choice but to do as Odalie asks—even though it involves the business. And from there, the lives of both Odalie and Rose get far more complicated than even the most sophisticated reader could imagine. Using the ever reliable unreliable narrator, Rindell takes The Other Typist to the edge and beyond. Everything is called into question and I do mean everything. Beyond this point, virtually anything else I write would be a spoiler so I'll stop, except to say: The Other Typist is one of the most mind-bending psychological thrillers I've ever read. A week after finishing it, I'm still discussing it with other bloggers because so many theories abound as to what really happened. And that would be my only caveat—this is a strongly written novel and Rindell deserves praise for its execution but a part of me almost feels as if she got lost in the labyrinth as well and could not decide the ending. Whether this is the case or not, the novel cleverly plays with the trope of poor plain girl being befriended by pretty young thing and turns it inside out. The Other Typist will leave you guessing long after you've finished reading.
If you've already read The Other Typist or if you want to check back once you do, here are some sites that discuss the novel's ending:
This book can be purchased online at:


The Elliott Bay Book Company
Related Posts