Indelible
by
Adelia Saunders
Published by
Bloomsbury USA
Publication date:
January 17th 2017
Genres:
Debut
,
Fiction
,
Literary
,
Magical Realism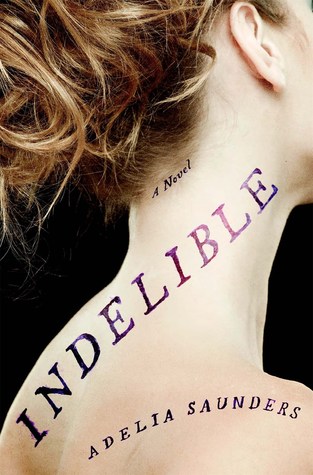 For as long as Magdalena could remember the words had always been there, although she didn't used to think of them as words. At first she didn't think of them as anything, they were just extensions of a person's skin… 
What would it be like to know the most important facts of any person's life just by looking at them? Not because of any psychic ability per se, but because to your eyes their skin is covered in words and sentences—psychic tattoos if you will. This is life for Magdalena.  She doesn't see people the way the rest of us do. What she sees is every person's life written out on their skin—tattoos of the critical information of their personal histories. As a child this trick is laughed off, but as she gets older she learns to stay quiet with what she sees on people's skin. In Adelia Saunders's debut novel, Indelible, this 'gift' comes at a painful price that leads Magdalena into the path of two men she's never met, one of whom has her name just above his cheekbone.
Neil, and his father, Richard are the two men. From these three characters Indelible moves backwards and forwards, holding onto its humanity even in the face of the magical realism of Magdalena's abilities. The story converges in London where Saunders brings all three into contact, but without any full understanding of the other's importance. Richard does not know that Neil is in Paris nor does Neil know his father is there. Each is on a mission: Neil to deliver a gift from his father to Magdalena's mother and Richard is ever on the hunt for the famous mother who abandoned him as child to relatives. Even Magdalena is traveling through for a reason. She is returning her childhood friend's ashes to the Lithuania and is burdened with the knowledge that she foresaw her friend's death, but did not understand what it meant in time to save her.
Indelible takes place in locations as dissimilar as the Colorado prairie and Lithuania, but the overall atmosphere is subdued and rainy. This is not a criticism, more a recognition of how well Saunders does her job. If your eyes reflect the truth and fortune of every single human you see then the only way to cope is to not see clearly. Magdalena accomplishes this by not wearing her glasses unless absolutely necessary. The world is grey and blurry to her—otherwise it is impossibly painful.
A similar kind of blurring takes place as Saunders moves from character to character. Each has a substantial backstory and at various points the intersection of plot and narrator becomes confusing. Looking so closely at the intimate details of each one causes a bit of 'not seeing the forest for the trees' effect—until you step back, it's hard to get a sense of how everything works together. It is enough to be disorienting, but not enough to impact the novel as a whole.
Despite how unusual it is, Saunders does not make Magdalena's condition the main-tent attraction of Indelible. Her self-imposed myopia is in contrast to Richard, whose tunnel vision of obsession over his mother blinds him to the living people around him. In this way vision permeates Indelible—what we see, what we chose to ignore, where we focus. It is an integral part of the novel's larger theme—people longing for connection. And how, sometimes, even when we look hard we may still miss what's most important.
If the eyes don't see, the heart doesn't hurt.
Related Posts