I don't know about you, but I couldn't tell lion or lamb about March all month. We had warm warms and cold colds. My reading kind of felt the same way. On the one hand I read another 5 star book, but by and large consistency was not the name of the reading game because I stalled out on so many books. I also found myself turning more towards other media to fill my brain so I may need another name for this recap if this continues.
Read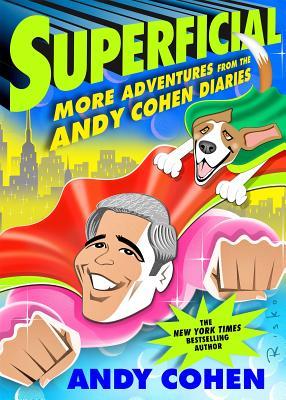 Superficial: More Adventures from The Andy Cohen Diaries
by
Andy Cohen
Published by
Henry Holt and Co.
Publication date:
November 15th 2016

Exactly what you think it would be if you're a pop culture addict with a jones for almost anything on Bravo. Two years of Andy's diary encompassing both the personal and the professional and all funny. The perfect antidote to the not-funny seriousness of the rest of the world right now.
The Roanoke Girls by Amy Engel
Published by Crown
Publication date: March 7th 2017


This is one diseased family tree that should have been cut down at the root—where it all begins. I was strongly reminded of The Flowers in the Attic, but this is written better—enough so that even when you've figured it out (which you quickly will), you'll keep reading, because where is it going to go? Lots of plot and drama, suitably sordid for vacation reading.
Fever Dream by Samanta Schweblin, Megan McDowell
Published by Riverhead Books
Publication date: January 10th 2017


At a brief 192 pages the title of this book perfectly encapsulates the story. I finished reading it and wasn't sure what I had read. All I can share for sure is that it is a dialogue between a woman who seems to be dying and a young boy who may already be dead or may be responsible for what's happening. That said, this is a novel of creeping dread, vague unease and the overwhelming feeling that even if you don't understand what's wrong it's still VERY wrong. Reminded me of Shirley Jackson's The Lottery.
The Tea Girl of Hummingbird Lane  by Lisa See (review to follow)
The Rivals of Versailles and The Enemies of Versailles by Sally Christie: a whole lot of wicked French history (reviews to follow)
Widow of Wall Street by Randy Sue Meyers: fictional Bernie Madoff (review to follow)
Stalled/DNF
This is a category I don't like, but it happens regularly these days so I'm including it. If you've read any of these and can tell me why I should jump back in, I'll try because it wasn't the writing that stopped me—just a lack of pull to keep reading. Maybe I quit too soon?
Sympathy by Olivia Sudjic: A novel about online identity and relationships seemed like a natural, but despite the blurb calling it electrifying, the plot hadn't kicked in by the time I stopped reading.
Before the War by Fay Weldon: I enjoy Weldon as a writer and thought this would be no different when, in the first ten pages, she calmly informs the reader that the main character is going to die soon so don't get too attached. Such a wonderfully British way of approaching things! Sadly, I didn't understand where the story was going so quit.
All Grown Up by Jami Attenberg: You'd think this would be a natural for me- 30-something woman living in NYC, but she annoyed me so much I couldn't keep going. My leash is a lot shorter these days so yanking it sets me off more quickly.
Watched
Hidden Figures: What an incredible movie! It was inspiring to see three such brilliant women working in a man's world and outshining them, but depressing in how they were treated. That because of your skin color, no matter how great your contribution, you have to spend valuable minutes every day trekking to a bathroom you're "allowed" to use. And there is no complaining, no going to management, nothing because you will be fired if you ever open your mouth about anything. And yet, these women prevailed. We need more movies with heroes like this.
Moonlight: This won the Oscar for Best Picture and I can easily see why. When it was over I had to stay in my seat for several minutes so that I could stop crying. It's a quiet movie about childhood, but not the kind of childhood either I or anyone I know experienced. A young boy in urban Miami with no father and a mother addicted to drugs is trying to find himself. When he finally takes the first tentative step towards himself he is brutally crushed. Not a documentary but I'm certain it's far more fact than fiction. Mahershala Ali won Best Supporting Actor for his role and he is amazing. I remember seeing him in Netflix's House of Cards and thinking he would move on to much bigger things and now he has (he was in Hidden Figures as well).
How was your March? Read or see anything fabulous?!
Related Posts