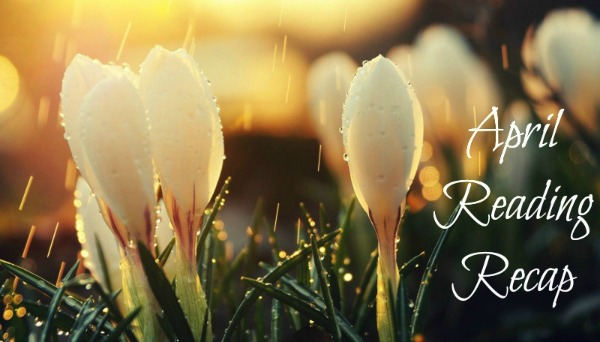 My April graphic is a lovely, but inaccurate depiction of the month this year. At least here in Michigan where we swung from bright spring days to snow last week. My reading followed the same path—with nonfiction continuing to be strong, but new-release fiction being hit or miss.
Vera by Carol Edgarian
Published by Scribner
Publication date: March 2, 2021


Bookshop, Amazon
Vera is fast, light historical fiction. Edgarian evokes the terror and aftermath of the San Francisco 1906 earthquake and fires while wrapping them in a dramatic story of Vera, the 15-year-old daughter of Rose, one of the city's most exclusive and wealthy madams. Entertaining if you're looking for lots of plot, but not much character development.
Good Company by Cynthia D'Aprix Sweeney: My review
The First Day of Spring by Nancy Tucker: Review to follow
The Girl with the Lower Back Tattoo by Amy Schumer
Published by Simon Schuster Audio
Publication date: August 16, 2016



Bookshop, Amazon
Amy Schumer is one of those comics who alternately makes me laugh out loud and cringe. It's no surprise then, that I reacted the same way to her memoir, The Girl with the Lower Back Tattoo. Both Schumer's personal and professional life offer plenty of fodder for her humor, but it's how she's able to shift between being an introvert in real life and a no-holds-barred comic that is most interesting. I also appreciated how incisively she writes about serious topics such as gun violence (2 women were killed at a showing of Train Wreck), multiple sclerosis, and other women's issues. If you're open to seriously foul language this is interesting and funny listening.
Astrid Sees All by Natalie Standiford
Published by Atria Books
Publication date: April 6, 2021


Bookshop, Amazon
It's not that Astrid Sees All is bad, it just provokes a strong reading reaction of 'been there, read that'. The novel follows wannabe cool girl, Phoebe, into NYC in the 80s after she graduates from college. She joins a friend, Carmen, who is already a cool girl. The novel chugs along through her bad choices, squalid living conditions and relationships, until Carmen disappears. Then it sparks into a search before finally sputtering out in an outlandish, operatic ending. If you really want to revisit Manhattan in the 1980s read Tuesday Nights in 1980.
Good Morning, Monster by Catherine Gildiner: Powerful nonfiction about a therapist and five of her patients. My review
That Summer by Jennifer Weiner: Review to follow
The Good Sister by Sally Hepworth
Published by St. Martin's Press
Publication date: April 13, 2021


Bookshop, Amazon
I could write a longer review of The Good Sister, but this is a psychological thriller and my thoughts would contain spoilers. The quick bits: a novel about twin sisters growing up in a dysfunctional family. Fern has sensory processing issues, making the world, with its noise and chaos, a difficult place to live. Her sister Rose helps her navigate life. The first 40% of the novel is tear-through reading, but even early on the author's foreshadowing of the truth gets heavy-handed so surprises are few and far between. The final straw? She uses a major plot point from Gone Girl and that was it for me. I skimmed the rest of the novel out of respect for the characters I enjoyed, but this did not deliver.
How was your weather and reading? Any books I need to know about?
This post contains affiliate links which means if you click on a link and make a purchase, I get a small commission (at no cost to you).
*I received a free copies of books from Scribner, Atria Books, and St. Martin's Press in exchange for honest reviews.*
Related Posts