Stay with Me
by
Ayobami Adebayo
Published by
Knopf Publishing Group
Publication date:
August 22nd 2017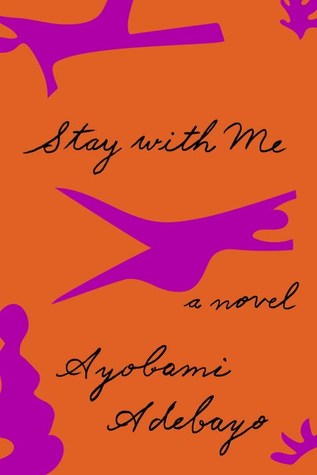 Stay With Me begins in the middle, which is when, after four years of marriage but no children Akin is being pushed by his mother to take another wife. He loves Yejide, but to not have children is incomprehensible in their society and a source of anguish to his wife. When he does give in it is as little as possible, with a woman who he does not allow to live with them and whom he only visits once a month. Still, it is enough to force Yejide to take desperate measures, visiting medicine men who claim they can give her a baby. She does become pregnant, or so she thinks, but ten months later despite her claims and the size of her belly there is no baby. From this turbulent middle author Ayobami Adebayo swings forward and back in time in what is a love story struggling under the onerous weight of expectations.
Throughout Stay With Me Adebayo underscores the generational divide found in so many cultures as they move from traditional, rural society to modern day. Akin does not want another wife. It is his mother who is steamrolling her way into their marriage in her desire for a grandchild—despite the fact that her other son has already given her grandchildren. And it is not simply a legacy issue. She is still tied to old ways of the spirit world, suggesting the couple have a small child live with them because its spirit will call to other children and even worse, going so far as to try and convince the couple, after they do have a child (who has sickle cell anemia) that they should kill that child because its spirit is too weak. The fact that she is allowed to act on her beliefs and force a second marriage for Akin is hard to reconcile.
I'm not being sensationalistic by saying that Stay With Me is an awful story. Awful for the love decimated by pain, sadness, deception, loss, and secrets. Sharing more of the plot is not possible without spoiling it, but suffice it to say Adebayo takes O. Henry's The Gift of the Magi and expands it to a Greek tragedy. Yet, for all the operatic drama, Stay With Me bridges the span between cultural expectations that feel incomprehensible with emotions that feel all too real.
Related Posts