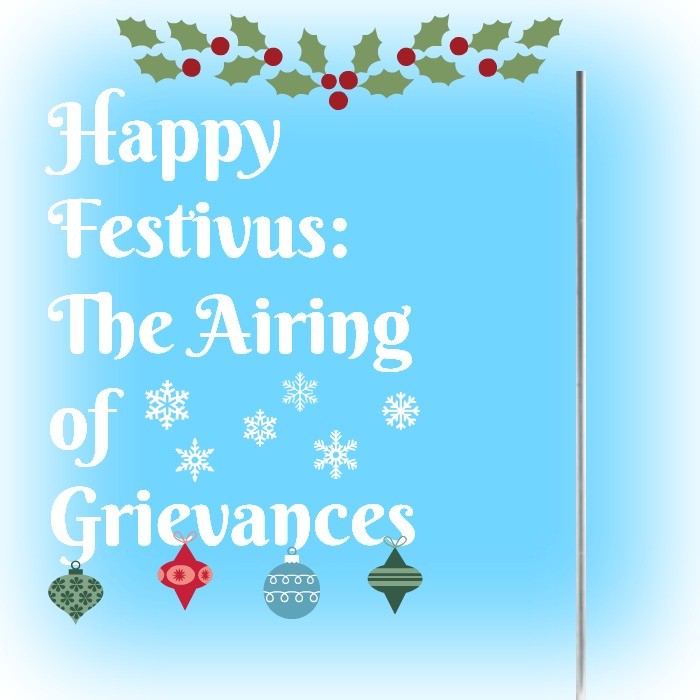 Now that I've gotten the sugar and spice and everything nice posts about best and favorite books out of the way I'm going to channel my Frank Costanza curmudgeon and embrace his cherished anti-Christmas holiday: Festivus. If you're a Seinfeld fan then you know what I'm talking about and if you're not you can google it. The important thing to know is that one of the key traditions of Festivus is the Airing of Grievances.
Thankfully, my life is a pretty great one so I don't have a lot of complaints, but I need to get a bit Grinchy on some of the books that came out this year. There are the authors I love who brutally disappointed, the debuts that held such promise, plots run amok, and the entire DNF crowd. Yes, I'm calling you out. Grievances are being aired.
1.
Authors (or Their Editors) Who Let Me Down
    A. 

Too Long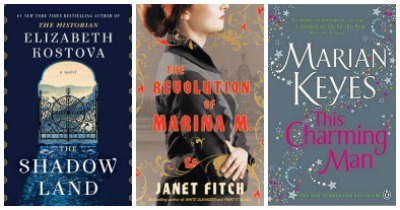 Elizabeth Kostova—The Shadow Land. Her debut, The Historian, was a book so good I got my husband to read it (a massive accomplishment). This I could hardly read myself. Oh so long. My review
Janet Fitch—The  Revolution of Marina M. She wrote the gripping White Oleander but this was deep dive into Communism and at over 800 pages her editor has to take some responsibility as well. My review
Marian Keyes—This Charming Man. By its very definition chick-lit is supposed to be frothy and FAST reading. If it's 700 pages then it better be Tolstoy. Not giving up on Keyes but this was a setback. My review
   B.

Plots Gone Wild (and not in a Good Way)
Jennifer Egan—Manhattan Beach: Who didn't love A Visit from the Goon Squad?! I loved the writing and the main character, but then it turned 180° into a different story that was of no interest. And yet, it is showing up on Best-of lists all over the place. Go figure. My review
Paula Hawkins: I didn't love Girl on the Train but thought maybe Hawkins would take it down a notch for her sophomore effort. Instead, in Into the Water she added more characters and more drama. This is a two strikes, you're out scenario for me. My review
I absolutely loved Cristina Garcia's The Lady Matador's Hotel (which I read before I had a blog so you must trust me and read it without a review), but Dreams of Significant Girls was another novel that went off the deep end in implausibility. My review
Nancy Pearl is a Seattle icon and I was ready to fall in love with George & Lizzie, her fiction debut, but I simply could not buy into this novel's premise. It was painful not to like this book, but I am still hopeful for what she writes next. My review
I can't say the same for Plum Sykes. I've enjoyed her chick lit since I first read it, but Party Girls Die in Pearls is a travesty. When a young man discovers a girl's throat has been cut ear to ear but still gives the dead body mouth to mouth? And a professor refuses to acknowledge the body and tries to continue teaching? Ludicrous, insulting and gross. This made the novel a double loser- ended my relationship with Sykes and was a DNF as well. My review
2. 

I Couldn't Even Finish
Ferocity: To continue with the corpse theme (sorry but it's true), if you feel you need to write a scene with an old man who desecrates a corpse at her funeral I feel like I don't care what else you have to say. My review
No One Can Pronounce My Name: Another book that sounded like it couldn't miss. Set in Cleveland's Indian community it was supposed to be a funny, but serious and touching look at assimilating into American culture. Sadly, I only made it to about 60% before setting this one aside. It felt like riding in a manual transmission car with a student driver, jerking between comedy and pathos before stalling, then switching back again. The pacing was completely off. Satyal never got it into a high enough gear for a smooth ride I wanted to stick with.
The Architecture of Loss: The premise of an accomplished woman trying to reconnect with the mother who gave her away is always one that intrigues me, but this exploded into crazy in the first chapter. The kind of crazy that isn't going to calm down enough for me to care. My review
The Exact Nature of Our Wrongs: If you know me at all, you know I LOVE an unlikable character. The only caveat? They have to be interesting. This novel is populated with some of the most tedious dreadful people ever. If they were real, I know they'd be Trump supporters. My review
New People: At a little more than halfway through I had to let this one go. Initially, I found Maria and her situation to be compelling, but it quickly devolved into utter implausibility. If Senna is making statements about race in America, which is very likely, then reality is more than enough. Maria's actions and choices simply don't make sense.
There you have it, my Festivus un-favorite books of 2017. Next week I'll be back to my holly jolly self with reviews and the books I'm looking forward to in 2018. I hope your holidays are peaceful and happy!
Related Posts