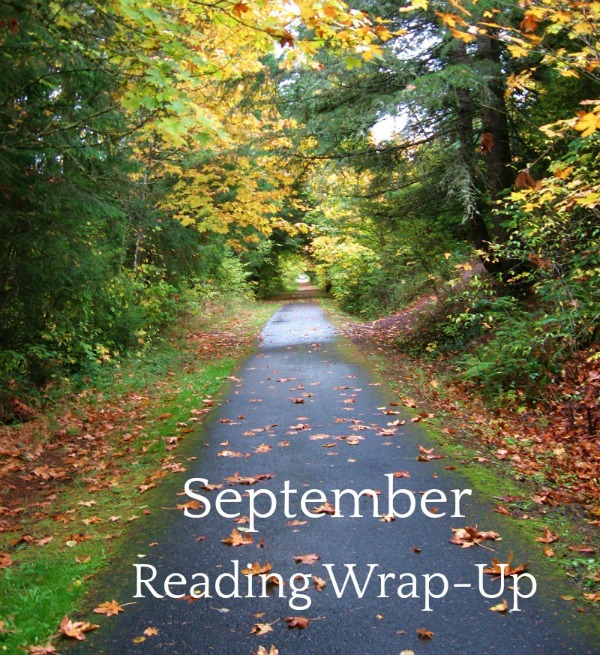 Goodbye summer! What an odd one it was—mostly chilly, but dry with only three days got that anywhere near hot. The worst of it was in with the fires in the Columbia Gorge when, even though we live up in Seattle, we had ash settling on our deck, trapping the heat and smoke for almost a week of hot, sticky, smelly weather. My reading was odd as well—four DNFs in June and mostly middling reading for the rest of the time, with some notable exceptions: Girl in Snow, Fitness Junkie, and See What I Have Done.
I hoped September would be different, as it ushered in the big releases of fall, but the reading roller coaster continues. There were a few really great books, but the bulk are ending up in the 2-3 star range. I wish I could explain why my reading this year has been so hit or miss, but I can't. I feel as if part of it is that the dumpster fire lunacy that is our politics now outstrips the imaginations of even the best fiction writers, leaving them scrambling to write scenarios that are more outrageous than reality.  Today, fact is clearly stranger than fiction so fiction is overcompensating. Unfortunately, I don't need reading that is more outlandish and chaotic then what I see in the news every day.

Exit West by Mohsin Hamid
Published by Riverhead
Publication date: March 7th 2017
Genres: Contemporary, Literary


Exit West focuses on Saeed and Nadia, young lovers trying to get out of an unnamed country which is disintegrating into war. It spans the year they spend finding 'magical' doors and hopscotching into countries where they can build a new life. Author Mohsin Hamid's decision to layer the fantasy of a portal to another place far away over the grim reality of how difficult and almost impossible it is move from one country to another in today's world is one that gives the story even more emotional heft.
Just as importantly, Exit West is about what happens to love when it's superseded by survival. The novel is painful in its depiction of the global refugee crisis, a deeply relevant work, but Hamid's approach is almost clinical. His use of language is formal, reserved. I did not get deep emotion from the characters, but maybe that's the point—is love superfluous when you're struggling to stay alive?

Dreams of Significant Girls by Cristina García
Published by Simon Schuster Books for Young Readers
Publication date: July 12th 2011
Genres: Coming-of-age, Young Adult

This is a YA novel, which would account for the boy-centric antics of three wealthy teenage girls at a Swiss summer camp. The setting allows for an eclectic cast: an Iranian princess, a German-Canadian, and a Cuban-American.  The novel spans three summers, but Garcia throws in outlandish plot points that take away from the potentially more interesting story of female friendships at a pivotal time of life. The hormones coursing through the female teenage body provide drama enough without adding things like a hypnosis session causing a psychotic break and a meet-up between fathers that stretches credulity to its breaking point.
Little Fires Everywhere by Celeste Ng: Reviewed
The Good People by Hannah Kent: Reviewed
The Cuban Affair by Nelson DeMille: Review to follow

The Lovers by Vendela Vida
Published by Ecco
Publication date: June 28th 2011
Genres: Literary


The Lovers is small book with more depth than breadth. An older woman returns to a small coastal town in Turkey, a place where she and her husband honeymooned decades ago. He was killed two years ago and she's having a hard time moving through her grief. While the plot is often wobbly, Vida stays steady in capturing the impact of loneliness and grief in all its manifestations.

Manhattan Beach by Jennifer Egan
Published by Scribner
Publication date: October 3rd 2017
Genres: Historical

I adored Egan's last novel, A Visit from the Goon Squad, for its inventiveness in format and writing, so was really looking forward to her latest. Sadly, this piece of historical fiction set in New York during WWII did not hold my interest enough to finish it. The intrepid young protagonist, Anna, is intriguing because she wants to be a ship repair diver for the Navy, but the combination with a subplot involving her father, his disappearance, illegal riches, his Mob connected boss is too fractured. Egan still has the ability to shift words into marvelous sentences, but not enough to make Manhattan Beach come together for me. There's not enough to hold onto.

The Exact Nature of Our Wrongs by Janet Peery
Published by St. Martin's Press
Publication date: September 19th 2017

There's an old saying that the people of Kansas are plain-speaking. This saying is put to the test with the Campbells, who live in Kansas and are over-blown, ornery, and ugly people whose accomplishments are limited to public intoxication, drug offenses, DUIs, speeding tickets, foreclosures, firearms violations. All this with a father who is a judge. Whether it's the characters or just the author, if three words will do, nine are used. The characters lie, dissemble, and blather on endlessly in ways that are anything but straightforward. The only sober one is the mother, but she's a living doormat and lovingly enables everyone around her. No one appears to have any redeeming qualities and despite life circumstances that could be fodder for powerful reading, they flounder on the page. Not sure what the theme of the novel is but I only made it to 28% before giving up.
My Absolute Darling by Guy Tallant: Review to follow
George & Lizzie by Nancy Pearl: Review to follow
How was your September reading? Anything great to share? Please? I need something wonderful to read!
Related Posts