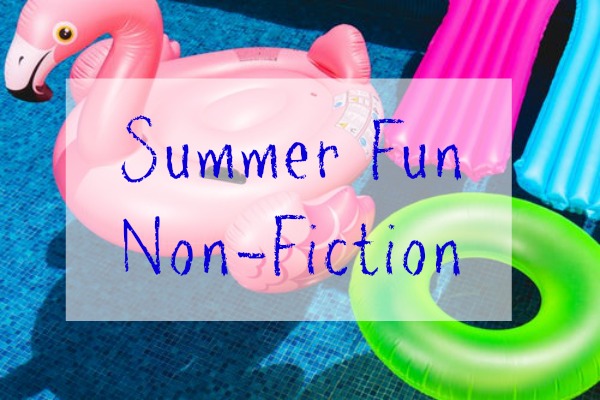 As you well know I'm not a big non-fiction reader, but between friends' recommendations and my library's awesome Peak Picks program (brand new releases available without a hold list), I came across these three books that covered all my non-fiction needs.
Tell Me More: Stories about the 12 Hardest Things I'm Learning to Say
by
Kelly Corrigan
Published by
Random House
Publication date:
January 9, 2018
Genres:
Book Clubs
,
Non-fiction
,
Essays

I have always cringed at movie critics who say a movie "made them laugh and made them cry" because…really? But now I have to swallow my pride and admit Tell Me More made me laugh and made me cry. I listened to it while on the treadmill at the gym so it was embarrassing all the way around. Laughing out loud at some parts, trying to wipe my eyes and not fall off at others. I knew from her book about her mother, Glitter and Glue, that author Kelly Corrigan was great at writing about that most difficult of relationships—mother and daughter, but in Tell Me More she goes further into all relationships and the way we communicate with loved ones. The book's subtitle is: Stories About the 12 Hardest Things I'm Learning to Say and it is witty and wise, with anecdotes about dealing with teenagers, approaching midlife, aging parents, and death. I'd highly recommend it in audio because Corrigan narrates and her voice is marvelous—every emotion shines through. And thanks to Sarah, at Sarah's Book Shelves for the recommendation!
Tools of Titans
by
Timothy Ferriss
Published by
Houghton Mifflin Harcourt
Publication date:
December 6, 2016
Genres:
Non-fiction
,
Business
,
Health
,
self-help

Tools of Titans is a hefty 700-page book, but don't let that scare you. It's based on Ben Franklin's saying "Early to bed, early to rise, makes a man healthy, wealthy, and wise." Author Tim Ferriss has divided the book into three parts: Healthy, Wealthy, and Wise. Each section contains thoughts, tips, and advice from successful people in the world of athletics, business, science, and the arts. Not a book to be read start to finish, but a great source to pick up and browse for insight and information on life. I picked up a recipe for a pre-bedtime drink to help with sleep, a new meditation source, and new podcasts to listen to. And I still didn't make it all the way through the book! This is a great reference source, something I might buy so I could refer to it when I need a little outside help or another perspective. And thanks to Ellison, The Book Bully, for recommending this on her podcast.
Calypso
by
David Sedaris
Published by
Little Brown and Company
Publication date:
May 29, 2018
Genres:
Non-fiction
,
Humor
,
Essays

I know who David Sedaris is, but have never read anything he's written, so when I came upon his new book, Calypso, I thought it was time to remedy that gap in my non-fiction reading. This book centers around a summer home he purchased in North Carolina for himself and his family. He was hoping to recapture the idyllic summers of his childhood, a time when life was simpler for he and his five siblings. What he (and we) learn is that by midlife nothing is simple anymore and attempts to revisit the past don't generally go as planned. In the book, the cottage serves as a jumping off point for his musings and memories.
Sedaris is completely transparent about his life and willing to expound on every aspect of it. The essays in Calypso range from as deeply personal as the suicide of his youngest sister to as superficial as his love for really bad television, ala Intervention and Hoarders. His disarming honesty, neatly blended with his dry martini humor, made me laugh about everything from his take on public religiosity
Increasingly at Southern airports, instead of a "good-bye" or "thank you", cashiers are apt to say, "Have a blessed day." This can make you feel as if you've been sprayed against your will with God cologne. "Get it off me!" I always want to scream, "Quick, before I start wearing ties with short sleeve shirts!"
to his dislike of weddings
 The Supreme Court ruling tells every gay fifteen-year-old living out in the middle of nowhere that he or she is as good as any other dope who wants to get married. To me it was a slightly mixed message, like saying we're all equally entitled to wear Dockers to the Olive Garden.
In another essay he recounts falling off a ladder and breaking eight ribs:
I later learn that what I suffered was called blunt force trauma. It's remarkably similar to how I felt after the election, as if I'd been slammed into a wall or hit by a car. Both pains persist—show no signs, in fact, of ever going away. The damage is permanent. I will never be the same as I was before the accident/election.
And with that, he goes right from pithy observations that make me laugh to an analogy so precise it makes me queasy. Because, yes, that is exactly how it feels for a lot of us.
All of which leaves me appreciating David Sedaris and glad I read Calypso. His words can be skewering the superficialities of life in one paragraph, but in the next, they pinpoint truths about the human experience in a way that hits home.
Have you read any great non-fiction so far this summer?
Related Posts