I've finally been hit by what so many of you have in the last few months- a whopper of a cold that has left me unable to formulate even the simplest thoughts. The Word Exchange just came out in paperback and as it was one of my favorite books for 2014, I'm sharing the review for the second time.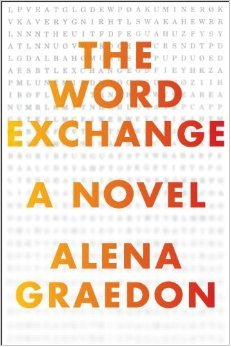 The Word Exchange by Alena Graedon
Published by Anchor
Publication date: February 3rd 2015

Amazon
A meme (/ˈmiːm/ meem) is "an idea, behavior, or style that spreads from person to person within a culture." A meme acts as a unit for carrying cultural ideas, symbols, or practices that can be transmitted from one mind to another through writing, speech, gestures, rituals, or other imitable phenomena with a mimicked theme. – Coined by Richard Dawkins, 1976 (Wikipedia)
If you are a lover of the books and the printed word (and my guess is you are or you wouldn't be here) then The Word Exchange, author Alena Graedon's debut novel, reads like your worst nightmare. Imagine that in the not-too-distant future we have all but abandoned libraries, book stores, and books of any kind. Any and all the information we need to run our lives is available on a marvelous little electronic device called a Meme, produced by the Synchronic electronics company. The advanced and intuitive processing capabilities of the Meme mean that there is less and less need for any thought processing on the part of the individual. And like any good corporation, Synchronic is working on the next generation of device, to be called the Nautilus, which integrates with the users' neuronal structures through cellular fusion, making every thought a command.
Memes even have an app called the Word Exchange for all those pesky words that might come up in text or conversation that you no longer remember. For a tiny fee, it gives you the definition, ensuring that you always sound smart. This is an unpleasant and unacceptable situation for Doug Johnson, the editor at one of the remaining dictionaries in the world. As a lexicographer, words are his life and despite being considered difficult and old-fashioned, he fights back hard against those who see the Word Exchange as a tool to make people smarter, pointing out that
"You're restructuring supply lines. Understand? Once you go down that road, you can't go back again. The road's gone."
His daughter Ana works with him and when he fails to meet her for dinner before the release of the dictionary's newest edition, she goes back to the office to find him. He is not there but her search takes her to the building's basement where she sees large groups of people burning the original files that comprise the definitions for every word in the dictionary while others, with small devices on their foreheads, are replacing the meanings of words in the dictionary's electronic index with new terms bearing no relation to the original word. She doesn't find her father but begins a quest to do so and to avoid these people who are beginning to exhibit the strange trait of being unable to speak clearly. Their sentences are sprinkled with words of gibberish. Before long this mysterious phenomena is spreading and has been dubbed "the word flu".
Graedon does a stellar job creating a literary maze of a world gone crazy. It would not be difficult with a concept like this to descend into dystopian madness but Graedon has no need for such theatrics—reality is unnerving enough. Even as the epidemic grows with larger swathes of the population unable to speak intelligibly Graedon keeps the novel from having a Mad Max feel. Instead, she takes a young woman's fears about her father's disappearance and layers that very real concern with the surreal event of watching the world she knows shift around her like quicksand. Reading The Word Exchange is like reading any news about advances in technology today. Sounds hard to believe but…wouldn't it be marvelous? Or maybe…the cellular fusion capabilities of the Nautilus mean that a server virus can be downloaded and uploaded ad infinitum, allowing it to spread from one person to the next virtually unchecked. No matter where you stand on technology, Graedon's linguistic finesse makes The Word Exchange smart and scary reading.
Related Posts