The Uncommon Reader
by
Alan Bennett
Publication date:
September 18, 2007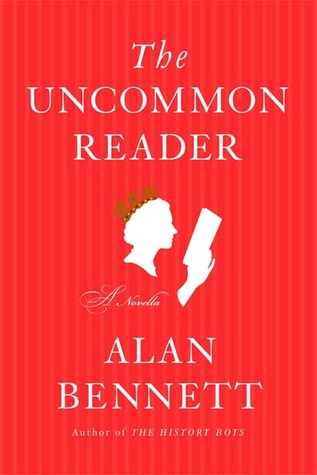 Everyone knows the old saying that the best things come in small packages. I'm pretty sure it's supposed to refer to jewelry, but I'm happy to report that it can also be true of books. For any number of reasons recently, a perfect storm on too many fronts had left me unable to process anything more than re-watching Parks & Recreation obsessively.  My mind was mush and I needed something that would refresh, revive, and reset my reading brain. Thankfully, I found exactly what I needed, thanks to Sarah's Rock Your Reading Tracker, which helps me keep track of reading recommendations from friends and bloggers. It's the delightful and witty The Uncommon Reader by Alan Bennett.
Thanks to her badly behaved corgis, Queen Elizabeth finds herself in a library book mobile that serves Buckingham Palace. As a dutiful public servant, she can't just leave without showing some kind of support so she grabs a book from the shelf and checks it out. And so begins the Queens foray into reading for pleasure. With the help of Norman, a kitchen staffer who was in the book mobile at the time, she discovers what it's like to read something other than briefings and political documents. Soon Norman has been promoted to her assistant-in-charge-of-reading and she has gone from a punctual monarch who always put on a good show of waving to crowds from her motorcade to a tardy bibliophile who hides books in the car's cushions so she can read between destinations. Her waving falls by the wayside and inside of the deliberately innocuous and carefully scripted questions she's supposed to ask of dignitaries and commoners, she wants to know, "What are you reading?" The palace and, indeed, even the government, is thrown into an uproar.
There is much to love about this novella. Bennett embodies dry, British wit in every character, all while poking not-so-subtle fun at the outdated and sometimes outlandish customs of royal life. The fact that Queen Elizabeth's face and voice are recognizable to virtually anyone reading the book makes the reading even more fun. Because you KNOW she must have emotions (good and bad) but is only too, well…royal, to show them. In The Uncommon Reader her thoughts and opinions are laid bare and they encompass everything from cranky to insightful. In short: wickedly human.
At only 120 pages, The Uncommon Reader is the antidote to whatever may be bothering you. It's a sublime literary cocktail—light, tangy and with just the right amount of kick. Even better, no hangover, although I found it addictive enough that I read it again. Treat yourself, or any stressed out reader you know, to what I guarantee is deliciously entertaining reading.
Related Posts