Happy Halloween, dear readers and welcome to the October reading wrap-up!
I'm not going to beat around the bush—I had serious reading issues this month. Bottom line? By midmonth I could not commit to almost any new fiction. I went into it on Friday, so I won't bore you with the details again. I had more starts/stops, stalled, put-down-and-forget-about books than I've had in a long time. With a few exceptions, most of what I read was from the library so I'm going to cheat and count this as my library checkout as well.
Read
Delicious Foods by James Hannaham: Review to come 
Your Heart is a Muscle the Size of a Fist by Sunil Yapta: Review to come
Faithful by Alice Hoffman: Review to come
The Mothers by Brit Bennett: Reviewed
Small Great Things by Jodi Picoult: Reviewed 
The Other Einstein A Novel by Marie Benedict: Reviewed
Today Will Be Different by Maria Semple: Reviewed
The Assistants by Camille Perri
Published by G.P. Putnam's Sons
Publication date: May 3rd 2016


The Assistants by Camille Perri. A fresh twist on the Devil Wears Prada story (thank God, because it's been done to death). Tina is the assistant to Robert, the billionaire owner of a media empire (ala Rupert Murdoch). When an error occurs in an expense report she submits for him she finds herself in an ethical dilemma. What follows is a light take on the heavy subject of the student debt and job stagnation for young women.
Wolf Hall (Thomas Cromwell, #1) by Hilary Mantel
Published by Henry Holt and Co.
Publication date: October 13th 2009



 Bring Up the Bodies (Thomas Cromwell, #2) by Hilary Mantel
Published by Henry Holt & Company
Publication date: May 8th 2012


Wolf Hall and Bring Up the Bodies by Hilary Mantel. I know, I'm way late to the game on this one. Especially given my love of all things Tudor, but I kind of loathe Cromwell and so didn't think I'd care about a novel about him. I was wrong. Yes, there is a maddening cast of characters, but Mantel's following of the machinations in Henry's court is fascinating. She writes with a tongue-in-cheek style, that reminds me of Shakespeare—where for all the drama of the aristocracy the servants are getting a good laugh out of it. Except when they're scheming. This counts as addictive reading and all I want to know now is: when is the third book coming out?!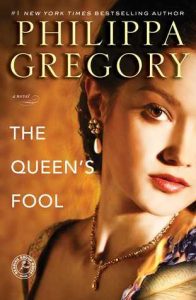 The Queen's Fool by Philippa Gregory
Published by Touchstone
Publication date: February 19th 2008


The Queen's Fool by Philippa Gregory. Yes, more Tudors, but thankfully the beast Henry is dead and now Mary and Elizabeth are left to fight it out. Which they do, with an odd mix of sisterly love and ambition. They're kind of the ultimate frenemies—the only way once can succeed is if the other is dead and yet neither can bring herself to kill her royal sister.
Time to share! What were your favorite reads this month?
Related Posts