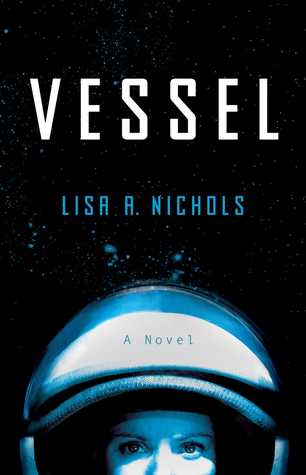 When Catherine Wells returns to Earth after 6 years of being presumed dead in space, it's a big deal. And a great premise for a sci-fi novel, especially because she returns alone, without her five team members, AND she has no memory at all of what happened. She is the captain of a space vessel that not only went past Earth's solar system, but landed on a planet beyond any we know of now. What happened out there and where is her crew? Author Lisa Nichols asks, and ultimately, answers these questions and more in her debut novel, Vessel.
Despite not having seen her husband or daughter in nine years, Catherine is first kept in isolation as NASA tries to get answers about how and why the mission failed. For the most part the people she encounters see her as a hero, but one, Cal Morganson, continues to drill her and seems skeptical of her answers. This may be because he is the one of the directors for the next mission which will be launching to the same planet shortly.
When she does finally return home, it is to find herself with a teenage daughter she doesn't know and a husband who has moved on. Another woman has been living in her house. Nichols handles the personal life scenarios in Vessel in a way I appreciated. She doesn't go for the sensationalistic, but writes the characters and the emotions with respect and nuance. She does the same thing with what's happening to Catherine. Not only is her memory returning, in tiny snippets of scenes with colleagues while on the new planet, but she is also experiencing odd responses to the people around her. In some cases, it's repulsion and rage.
It's no surprise that everything in Vessel is building to a crisis point: the launch of the next mission to a planet that may or may not be hostile to mankind, the spans of time back on Earth that Catherine can't account for, and the human element of what space travel does to those that go and those that stay behind. She adds chapters of the recorded transcripts from Catherine's mission which fill in holes Catherine can't (or won't). By and large it all works to build a slow burn, but when things should finally boil, they go cold.
I guess if you're a huge sci-fi fan then you're already open to the myriad of possibilities of what alien life could look like on other planets. If you're just a drive-by reader of the genre like me, then the direction Vessel goes feels seriously anti-climactic and a bit clunky. At the same time, Nichol's writing is strong enough that I give her an A+ for effort. Much of the novel held my interest but when it counted I felt cheated. Having said that, I realize it may be me so if Vessel sounds interesting to you, please check out this review from Susie, a blogger I trust: https://novelvisits.com/vessel-by-lisa-a-nichols-review/.
Related Posts