September is here and fall (sort of) so I've got to pull myself out of my summer funk and get re-energized for reading. I feel as if I need to keep apologizing, because despite my best efforts at taking review breaks, I'm still struggling to get my mojo back and to post regularly. I don't think I'm alone in this—it's been a long time since we've had good news in America, which is a difficult mindset to live with. Bear with me, I do have some fall reading that should provide great escape.
(for a more in-depth synopsis of each book, click on title link to go to Goodreads)
Set in a small village in Uganda, A Girl is a Body of Water, is about a 12-year-old girl's search for her mother and her identity. She's been raised by the women in her family, but with no idea of what happened to her mother. I'm always a fan of coming-of-age novels and this one has an additional layer of the girl's changing nature—from quiet to rebellious. (September 1, Tin House)
It's hard to overstate how much I'm looking forward to Anxious People.  Backman's writing always appeals to me, but the premise of this novel sounds tailor made for escape and humor. A foiled bank robber takes 8 people hostage (that's not the funny part), but after hours together they're so annoying he's ready to surrender. (September 8, Atria)
A Knock at Midnight is my only non-fiction pick for fall. Brittany Barnett is a law student when she learns about Sharanda Jones, a young woman who is serving life without parole for a first-time non-violent drug offence. Barnett graduates and goes to work in a high-powered law office by day, but takes on Sharanda's case pro-bono at night. She sees how her life could have ended up like Sharanda's, as her mother was in prison and she was involved with a drug dealer when she was younger. I'm ready to learn more about the racism that permeates the criminal justice system. (Sept 8, Crown)
Homeland Elegies is a post-9/11 novel about an Afghan father and son trying to find their place in America and with each other. From the synopsis it explores the themes of immigration, capitalism, and Trump's America. The author is a Pulitzer Prize winner so I'm optimistic that while this will be dark it will be well-written and insightful. (September 15, Little Brown)
I'm interested in Leave the World Behind by Rumaan Alam because I can't tell if it's going to be a straight up psychological thriller or if there are deeper themes. A family with two teens is vacationing in a home on Long Island when a couple shows up, says it's their home, and that there's been a blackout across the island. The couple is black so there is a racial component as to whether the family believes them. Whether the book works or not is a matter of if it's well done, simplistic, or sensationalistic. We'll see. (October 6, Ecco)
I loved Sayaka Murata's last novel Convenience Store Woman for its highly unusual main character so I'm very excited about Earthlings. Once again, she's back with a female protagonist who doesn't fit into the typical Japanese gender role for women. Natsuki had a vivid imagination as a child, but has settled into a traditional married life, until the pressure for children arises. She goes looking for a childhood friend with whom she made a special promise in the hopes it will help her. I've read the synopsis for Earthlings, but how it will actually unfold is a fabulous mystery.  (October 6, Grove)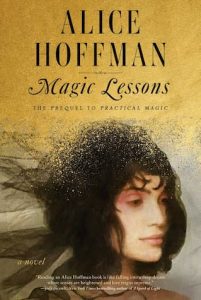 There's not much to say about this book except: I adore Alice Hoffman. She is a storyteller extraordinaire, from the fantastical to the mundane. Magic Lessons is the prequel to the Practical Magic series. It's about Abby Owens, the woman who started it all. Set in the 1600s in Salem she is accused of being a witch after she curses—a curse that follows the women in the family for generations. (October 6, Simon & Schuster)
No Heaven for Good Boys is set in modern-day Senegal. Ibrahima is 6 years old when he's sent by his parents from their village to Dakar to study the Koran with his cousin. Except the school they're sent to is a front for a "child beggar" moneymaking operation. Basically, the boys are left to live on the street dealing with predators and in the midst of a time of political unrest. I feel as if this is going to be the kind of literary fiction I love—a blend of the personal (friendship/growing up) with larger themes (urban versus rural life). (October 13, Random House)
Those are the 8 fall books I wanted to share with you because they might slip under the radar, but…here are two more BIG books coming out this fall from authors everyone knows:
Apparently, The Evening and the Morning is a prequel to The Pillars of the Earth which was outstanding, but it was written so long ago I don't see how I can read this without first re-reading Pillars. That's over 1,700 pages of reading. Gulp.
Jodi Picoult is one those authors who can be counted on to deliver an incredible story with a bit of something extra. Namely, a different perspective to an established event. This is catnip to me. I like being shaken up (in my reading). The issue is, it has to be something that interests me and I'm not sure The Book of Two Ways is it. It's about a woman who survives a plane crash and is trying to decide if she goes back to the life she knew or to the path she didn't choose decades ago.
Still, want MORE fall reading options? Then check out the Fall Preview episode of my friend Sarah's podcast, where we discuss the 16 books we're ready to read. 

This post contains affiliate links which means if you click on a link and make a purchase, I get a small commission (at no cost to you).
Related Posts