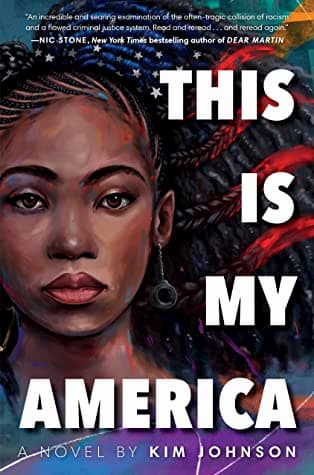 This Is My America by Kim Johnson
Publication date: July 28, 2020

Bookshop, Amazon
Being 17 is difficult enough, but being that age, Black, in a small Texas town, and with a father on death row feels like a mountain too high. For most it would be, but for Tracy Beaumont in the YA novel This is My America, acceptance and resignation are not traits she possesses. Her mother might say she's mostly "sass", but Tracy doesn't feel the need to keep her beliefs hidden to make other people comfortable. She's the assistant editor of her school's paper with a weekly column on social issues. When her track star brother is interviewed on Galveston TV, she jumps in and speaks out about their father's case. It leads to circumstances beyond any she expected and puts the rest of her family in harm's way.
I was sold on This is My America on page five when author Kim Johnson writes of a white girl, "Her long blond hair bounces with an unstoppable future.". One sentence and it defines the character and sets the tone for the novel. Unfortunately, that white girl quickly ends up dead and Tracy's brother, Jamal, is the only suspect. The fact that he goes into hiding makes everything worse. Once again, Tracy and her family are under the microscope with local police. When a lawyer from Innocence X arrives to help with her father's appeal the racism in town goes from semi-hidden to fully out in the open. Tracy wants to help with her father, but saving her brother takes precedence. The dead girl was the newspaper's editor and, it turns out, was seeing Jamal as well. The morning before her death she had asked to meet Tracy to discuss something.
Sometimes in YA you can have a great plot and it's enough, but in the genre's best you get something more. That's what happens in This is My America. There's a lot of story, but Johnson crafts characters that have layers, that can't be pigeonholed, and that always draws me in. Many of the things she writes about from the Black perspective are wholly unknown and disturbing to me. Like Tracy holding classes in the community center to teach Blacks their rights when confronted by the police. Her audience is often young, even pre-teen, Black men. She asks them if they have a go-to contact and everyone has an answer. Then she reminds them their phone will be taken away so they have to have a number memorized for their one call. As if that's not enough, it will have to be someone who will always answer a call from an unknown number, because they'll be calling from a police phone. I highly doubt anyone reading this review has ever had to consider such a thing for a teenaged loved one. But this is the America Blacks live in.
I'm not trying to hop on a soapbox here and neither is Johnson. She's merely writing her truth in the form of a novel. The fact that it is foreign to readers like me, who have never been targeted due to the color of their skin, is shocking only to people like me. It's the norm for Tracy and everyone around her. And it's only one example in This is My America of how so much of what we see and hear is skewed against people of color.
Regardless of your interest in racism or social issues, this novel is compelling reading. The story contains a straightforward mystery, but the way Johnson writes her characters propels This is My America to the next level. I highly recommend.
If you're looking for nonfiction about the Black experience in the criminal justice system, an outstanding option is A Knock at Midnight by Brittany K. Barnett.
This post contains affiliate links which means if you click on a link and make a purchase, I get a small commission (at no cost to you).
Related Posts