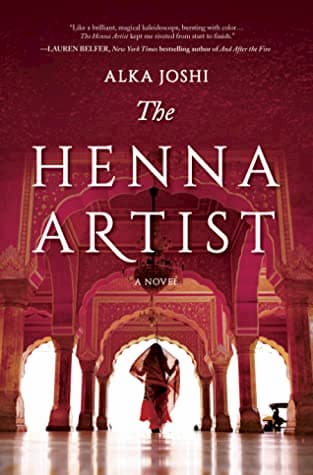 For ten years Lakshmi has worked hard to build her own business. Now, at 30, she hopes to use her connections among the wealthy women of Jaipur to score a financial payout large enough for her to finally finish her own home and bring her parents from their small village to live with her. They'd married her off when she was fifteen, but she'd disgraced them by running away from her husband after two years. She wants to restore their honor with her wealth and care. Her carefully laid plans begin to unravel when, instead of her parents at her door, there is a scrawny 13-year-old girl—a sister born after Lakshmi left her marriage. Two sisters, two stories in Alka Joshi's spellbinding debut novel, The Henna Artist.
The only good thing to come out of Lakshmi's marriage was her mother-in-law, a woman who knew the medicinal power of plants to heal and help. Her most requested remedies were those that prevented or promoted pregnancy. Now, those teachings are part of Lakshmi's services. Her incredible skill with henna gives her entry into homes, but her relationships go beyond painting into caring and treating these women for needs that often go unacknowledged. Her discretion and experience have led her to some of the richest clients in Jaipur but her drive for money and security keeps her pushing to the next level of success. When her sister Radha, appears she disrupts Lakshmi's life and threatens her dreams.
In the same way there are intricate patterns in henna, The Henna Artist has layers and layers, all of which drew me further into the novel. There is the caste system, which was still prevalent in 1950s India. Despite being of a high caste, the fact that Lakshmi works painting women's feet, means she's not as accepted in society. Then there is the art of henna. I've seen photos before, but Joshi's descriptions of the varied themes Lakshmi paints on her clients, based on their needs and desires, are mesmerizing, as is the process. She goes far beyond the basic techniques of hand painting to adorn bodies with fantastical images based on mythology, folklore, and even mysticism. There is meaning to every stroke of her brush.
But it is the cast of The Henna Artist that keeps me enthralled. Lakshmi, a woman on her own since her teens, navigating the world of men to carve out her own space, with her own money at a time when such a thing was rare. Joshi doesn't write it as a fairytale. Lakshmi makes compromises and poor choices, but she never stops striving. Radha is the counterweight to Lakshmi's drive. She has no formal education, has lived in dire poverty, and has no idea how to behave in society. She is both headstrong and easy prey.
Finally, there are the men in the novel. It's easy enough to stereotype them, but Joshi chooses to imbue them with their own contradictions, strengths, and personalities. So much so, that Malik, Lakshmi's helper, will be the focus in the upcoming sequel to The Henna Artist.
For a booklover like me there are few omens better than ushering in a much-needed new year with a five-star novel. I loved every aspect of this book—the sights and sounds of Indian life, the food, the details of herbal medicine (much of which we're turning to again), the lives of all kinds of women. Joshi applies the same diligence, precision and grace to The Henna Artist that Lakshmi does to her work and the result is just as stunning.
Love all things India in your fiction? Then I highly recommend Thrity Umrigar's The Space Between Us.
This post contains affiliate links which means if you click on a link and make a purchase, I get a small commission (at no cost to you).
Related Posts