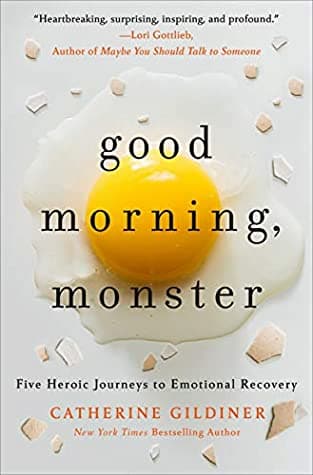 Good Morning, Monster: A Therapist Shares Five Heroic Stories of Emotional Recovery by Catherine Gildiner
Published by St. Martin's Press
Publication date: September 22, 2020
Genres: Health, Non-fiction

Bookshop, Amazon
Good Morning, Monster is not only the title of Catherine Gildiner's book, but what one of her patients actually heard every day of her childhood. And not in a loving 'you're grumpy' or 'you've got bedhead' way, but with true disdain. Gildiner is a psychologist in Canada and in Good Morning, Monster she's pulled together the stories of five patients who deeply impacted her and shaped her as a therapist. These are people who managed lives as functioning adults, all despite horrific childhood trauma. Their stories are disturbing, but their resilience and determination to heal is extraordinary.
There is much that is eye-opening in Good Morning, Monster but one of the things that repeatedly stands out is how each of the adults has constructed an impermeable persona of self-sufficiency by the time Gildiner meets them. Laura is an office assistant who makes it clear from the start that if Gildiner shows her any sympathy or compassion she'll stop coming. Peter is a successful musician, Daniel is a long-haul trucker moving valuable goods throughout Canada, Alana works in the IT department at a law firm and is known throughout the firm for her understanding of patent law, and Madeline is a highly successful antiques dealer.
It's as Gildiner slowly removes the shells that the truth emerges. At the core of each patient is a shattered childhood. For Laura, her father abandoned her when she was 9-years-old, leaving her to care for herself, her little sister, and her little brother in an isolated shack in the woods. There is no one to watch Peter while his mother works so he is kept in an attic from morning until after he falls asleep at night, from the time he was 18 months until he was 5-years-old—meaning he doesn't know how to talk, use a bathroom, and has never been around other people when he starts kindergarten. Daniel had loving parents and a happy early childhood living in the wilderness, but as an Indigenous people, Canada enacted laws saying their way of life must be eradicated so when he was six Daniel and his sister were taken away to schools to become "civilized". From that time until he was 18 he was known by a number, no name. Alana's father began sexually assaulting her when she was four before putting her on birth control and farming her out to his friends when she was eight. Madeline's exterior is one of accepted eccentricity as a flighty, high-strung business owner. She comes from a wealthy, but highly dysfunctional family and it's her mother who called her a monster every day.
If Good Morning, Monster was nothing more than a recitation of horrific abuse it would be impossible to read. But from Gildiner's viewpoint as a neutral professional, watching her not only reach her patients, but learn from them is rewarding. She is tested time and again by her own cultural limitations and goes to great lengths to grow beyond them in order to help. The journey and recovery of these five extraordinary humans is profound.
For more outstanding reading on mental health issues I highly recommend Maybe You Should Talk to Someone by Lori Gottlieb
This post contains affiliate links which means if you click on a link and make a purchase, I get a small commission (at no cost to you).
Related Posts