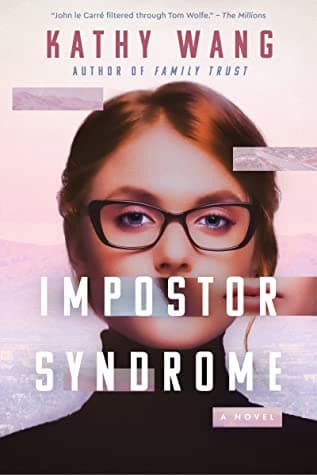 One Julia is the wildly successful COO of Tangerine, one of the world's largest technology companies (think Facebook). She's happily married, living a life most of us only dream about. The other is a watchful, young Russian orphan desperate to be adopted. Plain and quiet, she's ignored until later she catches the eye of Leo, a recruiter for the SPB, Russia's secret intelligence agency. What could these two possibly have in common? They're the same person and in Impostor Syndrome we watch as the unremarkable Julia, now carefully trained and coached,  climbs ever higher in America all while reporting back to mother Russia.
While Julia is gathering information, crushing the competition, and enjoying the fruits of rampant capitalism, Alice Yu is struggling as a 35-year-old low-level tech support person at Tangerine. She had been in a senior position at a startup, but between it being acquired by Tangerine and trusting the wrong man, she's now in the basement of engineering jobs and having to share her apartment with her cousin. Life is not good. When a basic assignment leads to her discovery of massive amounts of personal data being transferred off Tangerine's servers to an unknown destination, she's not sure what to do. She's torn between following the rules, being on the outs with her manager, and worrying about the way she found the leak.
Given where we are in the world right now, Impostor Syndrome is timely reading. Author Kathy Wang manages to write a novel that not only feeds off the creepily intrusive nature of technology (facial recognition software, cloud storage, location mapping), but heightens the tension with the presence of an enemy nation using our own technology against us. If you watched the series The Americans then you're somewhat familiar with the world of Russian spies, but that was set in the 80s when paper was still the main source of transmitted information. It was tangible, unlike data. Also, in the decades that have passed the kinds of information that hold power has shifted, making what once might have been innocuous dangerous. At the very least, there is the uncomfortable knowledge that "privacy" is a very fluid concept for modern-day technology companies.
For as much as Impostor Syndrome is about espionage and technology, I was just as intrigued by the lives of Julia and Alice—two women trying to succeed in Silicon Valley. The pressure on both comes from very different sources, but the impact feels the same. Julia carries a double weight, that of her outward job and that of her secret work. She's performed as expected in both, but there's no easing of the demands made on her. Russia ratchets up their expectations just as corporate America looks to her as an exemplar of female achievement in a male dominated industry. For Alice, there are the familial expectations of being a first-generation immigrant, in the workplace and in her personal life. Then there is the trying-to-be-heard aspect of being a woman. Both women are prodded and maneuvered by circumstances into ever more precarious and uncomfortable spaces.
Wang brings together the novel's elements with finesse. The only place the novel stumbled was in the later stages of the story when more intelligence agencies came into play. It may be an accurate representation, but it slowed the pace. Beyond that, the 'who's watching who' tension is well-done as is the nuance around Julia's character. She begins as a clear villain, but as the novel progresses, it becomes less clear—an ambivalence I welcomed. It helped move Impostor Syndrome from a straight forward spy novel into something no less engaging, but with more depth.
This post contains affiliate links which means if you click on a link and make a purchase, I get a small commission (at no cost to you).
*I received a free copy of this book from Custom House in exchange for an honest review.*
Related Posts