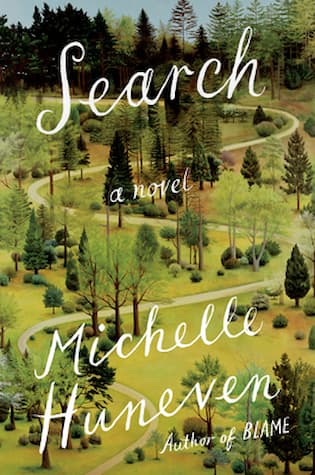 I don't read a lot of fiction with religion at its core, but Search by Michelle Huneven was recommended to me after a spate of heavy, challenging nonfiction. I knew nothing about the story, but was initially apprehensive about the premise of a woman joining the search committee for a new minister at her church. Thankfully, Huneven writes the realities of what happens when eight disparate people come together for a supposedly common goal. Best intentions, personal beliefs, motivations, and power struggles all come into play in this fictional memoir.
Dana is a cookbook author and restaurant reviewer living in Southern California. She's a Unitarian Universalist (UU), but her church involvement has fallen off in recent years. She decides participating in the search might reinvigorate her spirituality. On a less altruistic note, it could also potentially provide much needed fodder for her next book. She's joined by seven others, each representing the church's diverse community. They'll vet, discuss, interview, and host candidates over the next eight months, after which they'll cull the number to two candidates. Of the two the group must agree unanimously on one minister they'll present to the congregation for their vote.
As the search, and the novel, progresses, what was smooth on the surface begins to splinter. Factions arise with each subtly (and not so subtly) pushing their own agenda. What begins as a collegial group of people looking to find a new spiritual leader devolves at times into bickering and even a call for recusal and/or removal of some members. Along the way, Dana shifts from detached observer to someone who cares deeply about the search's outcome. While she welcomes this change, it's offset by the machinations she discovers behind-the-scenes.
If this makes Search sound like heavy reading, it's not. Huneven stays in the realm of the novel as Dana's memoir and as such, the elements of food, friendship, and relationships provide the brightness needed to counteract a grueling process that turns out to be anything but straightforward and reveals more about human nature than it does religion. She plays a wicked game of chess with preconceived notions about the flexibility of youth and the intransigence their elders, the axiom of "getting what you want", substance vs style, and even what is meant by spirituality, maneuvering each piece into unexpected positions.
For those unfamiliar with the Unitarian Universalism Search is an engaging look at the inner workings of a liberal low church. There are plenty of discomfiting moments for those of us raised in a high church, with its attendant rituals and prescribed services, but I appreciated being shaken up and shown a broader perspective of spirituality. Religion aside, I also enjoyed annoying characters (even as they annoyed me) and an ending that wasn't what I'd hoped, but felt true to the novel.
This post contains affiliate links which means if you click on a link and make a purchase of any kind, I get a small commission (at no cost to you).
Related Posts