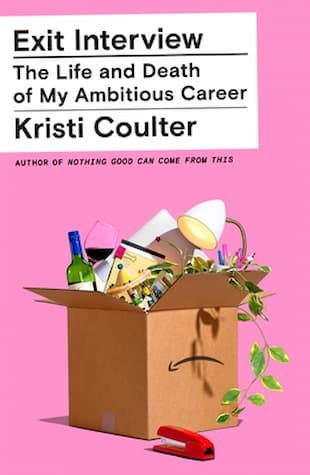 I've been on a roll with amazing memoirs and am thrilled to be back with another one. In Exit Interview Kristi Coulter leaves a secure, but boring marketing job in Ann Arbor, packs up her husband and their dog, and heads to Seattle. It's 2006 and she's decided she's ready for the Wild West of the corporate world: Amazon. She thinks she knows what lies ahead, but she has no idea.
Kristi is not new to the professional world. She's in her mid-30s and successful, but is tired of being passed over for promotion. The clock of her ambition is ticking significantly louder than her biological one so she applies for and gets a job as a senior manager in Amazon's books and media division. From there she advances for 12 years, becoming an integral part of two of the company's news ventures—publishing and groceries. All of which she chronicles in detail in Exit Interview.
This could easily be a 1,000-word review if I listed even half of the horrifying tidbits Coulter shares in Exit Interview so I'll go with just two. At one point a senior VP explains how Amazon believes in a work/life balance and that leaving the office at 5:30 is acceptable a couple of times a year. The job criteria for the final promotion Coulter's been working for states candidates must exhibit "nearly superhuman talent and stamina". These are just the tip of an iceberg that includes being called stupid and being rewarded for success by having her workload quadrupled while her budget and resources remain the same.
All of which begs the question: Why stay at such a hellish company? For Coulter, the need to excel, to push and prove herself is almost pathological. It's a Survivor mindset, to outlast and outperform 'normal' human beings. For a time, it's exhilarating to live in the deep end, on the edge of drowning, and to be paid handsomely (via stock options, not salary), but when Coulter finds herself drinking a bottle or more of wine a day she realizes something has to change. And yet, Amazon culture is such that she believes she's the problem. She's weak. All of this psychological torture is exacerbated by the fact that, despite its claims of diversity, the company's management is still mostly white men.
There is so much to unpack in Exit Interview, but what is most extraordinary is Coulter herself. It would be easy to go DefCon 1 and take a flamethrower to Bezos and Amazon, but Coulter is truth-telling without rage, giving her words even greater impact.  She relays the facts, but wastes no time whining or rationalizing her own actions. Instead, she intersperses essays throughout the book that creatively expose her internal dialogue, including Events in the History of Female Employment and Professional Help. It's these fiery, wry, self-aware intermissions that make it clear Coulter's lifelong goal to be a writer was her true calling and her Amazon ambitions just a toxic detour. Or fodder for a debut novel now that Exit Interview is wrapped?
Want more fascinating memoirs from women? I highly recommend The Many Lives of Mama Love.
This post contains affiliate links which means if you click on a link and make a purchase of any kind, I get a small commission (at no cost to you).
Related Posts