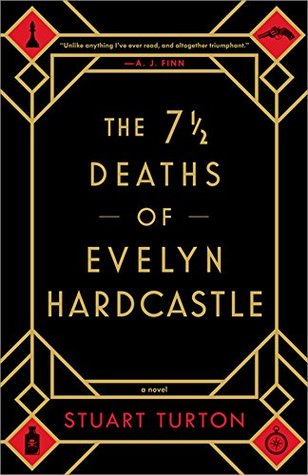 The 7 ½ Deaths of Evelyn Hardcastle is the most delightful mashup of the game Clue (Mrs. Drudge in the kitchen, Lord Ravencourt in the library, anyone?), the movie Groundhog Day, and the book Life After Life. If that sounds like a hot mess, and you're backing away, trust me, it's not. It's dark, dangerous, and delicious. Set on a decaying estate, it takes place over a long weekend that is a macabre memorial 'party' to commemorate the death of the owners' son nineteen years ago.  The narrator is Aiden Bishop, and you'll be spellbound as he goes through eight days of hell, repeating each day, but in a different person's body. All to solve a murder. That hasn't happened yet.
When we meet Aiden, he is not in his own body nor does he have any idea what's happened to him. It takes a man in black cloak and mask, whom he calls the Plague Doctor, to explain his situation to him and it's not a fun one. His mind and spirit are placed in one of the many house guests' bodies, and with their personality, for 24 hours. Then he is transported to another guest at a different point in the weekend. Within eight days, using these people, he needs to find out who tries to kill the owner's daughter, Evelyn Hardcastle. Solving the murder is the only way he will be returned to his own body and life. As if the task isn't big enough, there are others who are in the exact same situation and only the first person to solve the crime will get out. How dishy is that?!
So begins what is fabulously complicated and snarky reading. Aiden is an observer of his host's body and so is aware of all their worst traits, even as he is stuck living within them. The only thing he has going for him is that he retains his memory, meaning as he travels back and forth in time in these people's bodies, there is the possibility that if he is smart, he can leave clues for himself. But he is still held to eight days to figure it all out before his memory is erased and he starts again.
There is much that could go wrong with a book like this. Namely, loose ends, too many false trails, unnecessary details…the list is almost endless. Thankfully, author Stuart Turton either has an encyclopedic, photographic memory or he wrote a computer program for the novel because for every detail, every clue, every question, there is an answer. This could make for a fiendishly complex but dry mystery, but there is snark and wit throughout The 7 ½ Deaths of Evelyn Hardcastle. The title is the clunkiest thing about the novel because everything else works seamlessly. Is there a lot of detail? Yes. Is it easy to second guess? Yes. And if you are the kind of reader who must figure out whodunit then this novel might not be for you. But for anyone who can relax their mind and leave the heavy lifting to an author, then this literary charmer, filled with nefarious goings-on, unlikable characters, and a plot that corkscrews with twists, is reading perfection. Pure entertainment with an ending that made me shake my head—in the best way. In case you're not quite sure how I feel about  The 7 ½ Deaths of Evelyn Hardcastle: READ THIS BOOK.
Related Posts