The Night Guest
by
Fiona McFarlane
Published by
Faber & Faber
Publication date:
October 1st 2013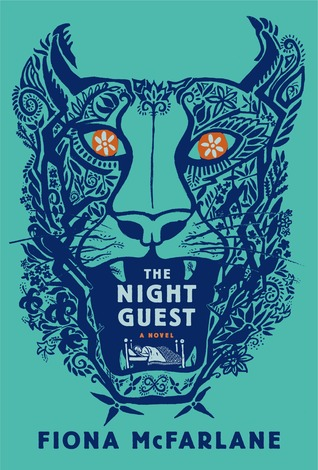 Ruth is a widow who lives alone and is awakened late one night by the sound of a tiger in her living room. As improbable as it sounds she is convinced, to the point of calling her grown son and describing the incident to him. Even after falling back asleep and waking to a normal morning, she wonders if it actually happened. It is this delicate interplay between reality and the mind that opens Fiona McFarlane's debut novel, The Night Guest: A Novel.
Several days after her restless night a sturdy woman named Frida appears at Ruth's back door. She is a government-paid care worker and she will be visiting Ruth daily to help her take care of the house and manage her affairs. At first Ruth is uncertain about Frida's presence, feeling that she manages her life well enough on her own, but as the days pass and the cleaning and cooking are handled, she begins to warm towards this unusual woman. She begins to share with Frida the memories of her childhood in Fiji and allows her to become more entwined in her life. For her part, Frida provides Ruth with daily companionship and takes the burden of the house and the bills off her hands without encroaching on her space. She is patient but not prying, a woman who cannot be surprised—even by a night tiger.
But this was Frida's way: it was impossible to surprise her. She would rather starve then be caught off guard; she had said so one more than one occasion. 
All the things Ruth forgets to do—Frida takes care of them. In the same way, the reader is comforted by the quiet, steady prose of McFarlane who, without judgment, gently navigates the vagaries of Ruth's mind when it wobbles back to the past in the midst of the present. We see just how easy it is to think we have done something when in fact we have only thought about doing it. Even emotions become confused as Ruth alternately depends on and resents Frida.
The Night Guest is a tender but sad experience. What begins as a character study evolves into a kind of thriller. Ruth is everyone's grandmother and her struggles with her changing mind and health are recognizable to anyone over the age of forty. Frida seems like a welcome addition but as the novel progresses her manipulation of the facts is frustrating. McFarlane does a marvelous job drawing us in until we too are uncertain what is happening. For each action that seems suspicious there is another to explain it away. Like Ruth, we want to believe. The novel touches because it goes to the heart of many of our fears. Being alone, aging, loss of mental acuity—all are enough to cause the pain of recognition. When the end comes, even if it is not unexpected, it still hurts.
Related Posts