A Girl Is a Half-formed Thing
by
Eimear McBride
Published by
Coffee House Press
Publication date:
September 9th 2014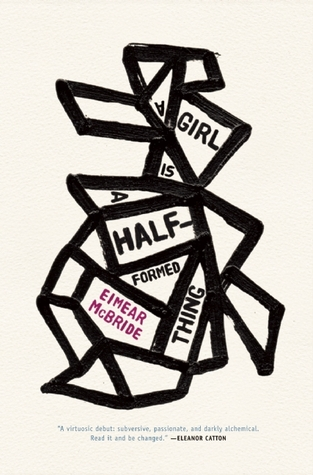 The heart cannot be wrung and wrung.
Eimear McBride brings her main character to life with prose so fractured that A Girl is a Half-Formed Thing reads a bit like Clockwork Orange. There is no made-up language, but McBride uses a combination of Magnetic Poetry and Yahtzee to throw out words in random order with punctuation as an afterthought. Abandon any hope for sentence structure or grammar but, if you can simply read the words, there is a harsh poignant story to be found.
There are no names used in A Girl is a Half-Formed Thing but the protagonist is a teenage girl trying to deal with her brother's brain tumor and his ongoing problems from the surgery that saved his life. He is her dearest companion and she has felt his love since her days in the womb. There is no father and her mother is overwhelmed and sometimes abusive. Her love for this brother burns white hot when she is small but cools as she grows up and moves on to college, while he cannot make a life for himself outside of their mother's house.
You are behind. You are way behind in this. I see you lagging. I can see you limping off at the back but I'm getting very tired of looking around and in a bit I'll leave you to the fates.
As his health deteriorates she chooses sexual abuse as her punishment and her body as a sacrifice to a God she doesn't understand.
This is not a novel for everyone. It is so unique in its construction and technique that its appeal will largely be to those readers who view fiction as art—modern, abstract art. And like that art it requires a great deal of effort to understand. How McBride managed to sustain this narrative for over 200 pages is nothing short of miraculous to me because my reading of the novel left me feeling as if my brain had been scrubbed with a Brillo pad. The prose is that painful, sharp, and devastating. The words don't flow, there is no order, and at times they read like poetry, but largely they require utter concentration and focus to even follow. It is exhausting, grim and bleak, which is the whole point for this girl. She is trapped in her own mind with no real tools to deal with what is an incredibly difficult situation. What McBride gives us is the uncensored, unfiltered contents of her brain pouring onto the page.
In its way the book is revolutionary. I've never read anything formatted or styled like this but it takes as much from the reader as it gives, if not more. A Girl is a Half-Formed Thing is rife with pain, darkness and confusion but there is no doubt about the clarity of McBride's voice.
Eimear McBride will be reading from A Girl is a Half-Formed Thing at The Elliott Bay Book Company on Thursday October 23rd as part of Seattle's annual Lit Crawl.
This book can be purchased online at:

The Elliott Bay Book Company
Related Posts