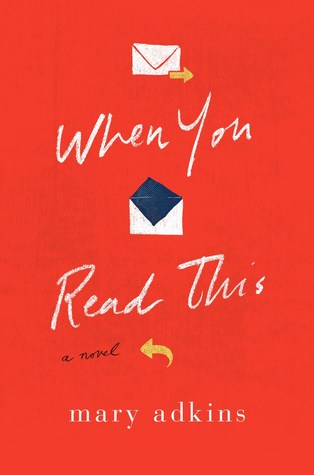 Here's a spoiler: Iris Massey is dead. She died of cancer at 33, leaving behind an obstreperous older sister, Jade; a narcissistic abusive mother; a weight lifter boyfriend, Richie, and Simon, her boss at his PR agency. Oh, and pages from a blog she wrote up while she was dying. It's discovered eight months after her death, in her desk drawer, and it sets When You Read This off and running into the kind of odd, tender, and clever novel I love so much.  Debut author Mary Adkins may start the novel with a real downer, but the story itself is one of buoyant humor that enveloped me from the first page to the last.
I was an assistant while I saved to open a bakery, which never happened. I wanted a family, too, but so much for that. I got skinny then fat then skinny again.
 Here's the thing I need to figure out. This whole time I thought my real life hadn't started yet. Turns out that was my life. I have six months or so to make that okay, somehow.
This is Iris's summation of her life in the blog she starts after she's informed, by phone, that she has lung cancer. She hopes that writing will help her make sense of the life she's lived. In the present, it's the people she's left behind who are struggling to make sense of their lives without her. Most notable is her boss of four years, Simon, whose PR agency has fallen on hard times. So much so that he cannot afford to replace Iris but can only bring in an intern. He hires Carl who raises millennial earnestness and PC behavior to hilarious new heights. Upon finding Iris's pages he immediately emails Simon to let him know
Based on this Post-it, I have inferred that this woman who last sat at my desk died? How recently?? Because fyi that is something I'm going to need some time to process.
He wants to be called associate not intern, needs extra time at lunch for his Kundalini yoga, and thinks the firm's name needs to be changed to something catchier than Simon's name. Something like Raisin' Brand.
While Carl provides the comic relief it is Simon and Jade who are the novel's main characters. They are strangers, each mired in grief over Iris's death, but both have pressing issues in their lives. For Simon it is an online gambling addiction and a mother in an assisted living facility. Iris, a promising NYC chef, has her own mother issues and is out of work. It's Iris's blog pages that simultaneously bring them together and push them apart: Simon wants to honor Iris's wishes and try to publish it, but Jade is vehemently opposed.
Adkins writes When You Read This in the most contemporary style possible—by blog, email, and text. The novel is epistolary (I find calling it that somewhat depressing because it means via letters and while I can accept emails as electronic letters I can't say the same for texting. Call me old and cranky.) It gives the story the abbreviated and somewhat rushed feeling of the medium. Tone is difficult to detect accurately as Jade and Simon communicate in bits and pieces about Iris's wishes and their own lives. By including emails from clients, old boyfriends, nursing home attendants, an attorney, doctors, and even an online therapy site, Adkins perfectly encapsulates the frenetic energy of contemporary life.
When You Read This is about just trying to get by. Every life is a mess, all tangled up with an aching hilarity. The best of intentions often goes wrong, the things that seem to matter don't, there are no answers when you need them, but there is still life. When Iris's cancer seems to go into remission she writes
I don't care that I can't meditate. I don't care that I fucking love sugar, and that I have the thighs to show it, even with cancer. I don't care that I curse too much, and don't always vote, and once kissed my friend's boyfriend, and liked The Fountainhead…and lied one time to a cop by telling him I was heading to tutor poor kids to get out of a speeding ticket.
Because I'm here. I'm still here.
It's this kindness Adkins feels towards all of her characters that is one of the most notable things about When You Read This. Even when they are at their worst and lash out with cruel words, she never falters in her love for them. At the same time, there's no coddling with sugary sentimentality. Instead, a subtle tenderness, mixed with sly wit, makes for a novel that comes off the page and into the heart. I loved everything about this book.
Related Posts