The Moment of Everything
by
Shelly King
Published by
Grand Central Publishing
Publication date:
September 2nd 2014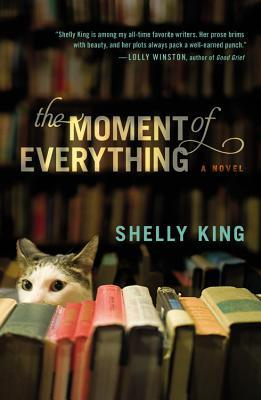 First of all, if you tell me a book is about a young woman who gets a master's degree in library science, loses her job and ends up spending her days hanging around the local used book store, I'll have my credit card out before your words disappear. Librarian? In. Unemployed? In. Book store? All the way in. So, there was no doubt I was going to read Shelly King's The Moment of Everything when I came across it. Maggie Duprés job search consists of hours as a so-called customer (who never buys anything) in the Dragonfly book store, reading romance novels.  After finding a copy of Lady Chatterley's Lover with love notes between two strangers penned in the margins she gets invigorated and starts using her unique combination of library and PR skills to bring the store into the 21st century. She designs a site, introducing the love notes as clues, that goes viral and gets the owner Hugo and his surly sales person Jason to organize the inventory and start tracking sales. When her success comes to the eyes of a local investor she is offered a chance that seems right on paper, but may take her somewhere she's no longer certain she wants to go.
The Moment of Everything is one of those books that please on multiple levels. There is the bookishness of the secrets found in an old copy of Lady Chatterley's Lover, the familiarity to be found in Kelly's descriptions of the Dragonfly's chaos and comfort, and the angsty feeling that comes as the big-box book store across the street tries to shut them down. The characters are a believable but quirky cast of misfits, from Lothario hippie Hugo to coding hotshot Dizzy, Maggie's best friend from childhood, to Maggie's beauty queen mother who lives a life of such perfect exactitude back in South Carolina that
Her letters looked as if they'd practiced walking with unabridged dictionaries on their heads until their posture was perfect. The o's were never too fat and the l's were never too skinny. It was the handwriting of a woman who had never doubted where she belonged and woke up each day knowing what it held in store.
Each appears and plays their part perfectly without getting campy or kitschy—no small feat with such a wide-ranging cast of lively characters, but King pulls it off perfectly, using the confused, self-deprecating Maggie as the glue. The Moment of Everything is so well-balanced between humor and soul that reading will hit the sweet spot in any book lover's heart.
This book is available for purchase online at:


The Elliott Bay Book Company
Related Posts