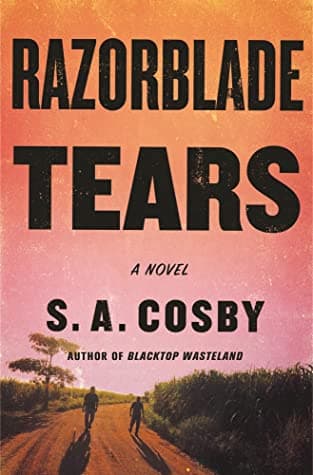 Ike Randolph and Buddy Lee Jenkins are middle-aged men with only two things in common. And both are things they'd like to forget: their prison time and their gay sons. One is easier than the other because their sons, Isiah and Derek married and have a little girl. Other than that, Ike is Black and the proud owner of a flourishing landscaping business and Buddy lives in a trailer and just lost his most recent job as a delivery driver. All that changes when Isiah and Derek are murdered. With the police investigation going nowhere the two men decide to take matters into their own hands in Razorblade Tears, S.A. Cosby's addictive thriller.
Ike is mourning his son and dealing with his wife's grief when Buddy visits him and suggests teaming up to find their sons' killers. Despite his reservations, when Ike realizes the killings were not random, but likely due to a story Isiah was investigating, he decides to act. From there the novel unspools with all the pace you expect from Southern grit fiction. Derek had met a stripper (Tangerine) with a secret, wealthy, married boyfriend. Derek set up a meeting with Isiah and the girl so she can share her story and expose the man. The meeting never happens; Derek and Isiah are dead, the girl goes missing, a biker gang and meth dealers get involved.
I enjoyed Cosby's debut Blacktop Wasteland, but saw it as a standard muscle car thriller—really good, but with no layers. In Razorblade Tears, Cosby moves beyond testosterone thrills by crafting Ike and Buddy with care, clearly showing that both men were counting on time to mend their relationships with their sons. Robbed of that chance, they're driven by sorrow and a primal rage for vengeance. At the same time this is not a straightforward buddy novel. Both men are forced to face their prejudices and acknowledge their failings.
In the same way, Cosby does a marvelous job integrating the numerous prejudices both face in their everyday lives and in their efforts to find justice. It all comes together into high drama that, while testosterone fueled (and sometimes bloody), is better than the sum of its parts. The characters in Razorblade Tears are as vital as the action so I'm not surprised to learn it's already been optioned as a movie. My casting? Either Idris Elba or Will Smith as Ike and Matthew McConaughey or Woody Harrelson as Buddy Lee. You heard it here first.
Backlist beauty: Want more fast paced Southern grit fiction? Try Bull Mountain by Brian Panowich.
This post contains affiliate links which means if you click on a link and make a purchase of any kind, I get a small commission (at no cost to you).
*I received a free copy of this book from Flatiron Books in exchange for an honest review.*
Related Posts