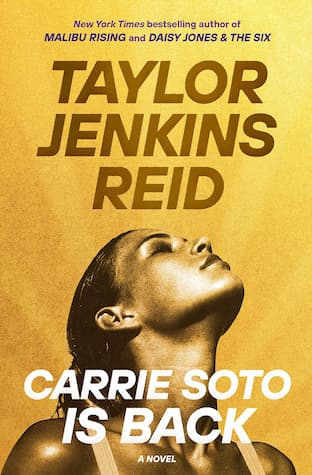 There's always a lot of excitement when a new Taylor Jenkins Reid novel comes out, but this year the hype is ramped up by its timing. Carrie Soto is Back is about a former Grand Slam titlist coming out of retirement to defend her record. This week the U.S. Open begins with the intense buzz around Serena Williams' announcement that she's retiring at the end of this year. In case you don't follow sports, I'm talking about tennis. Lots and lots of tennis.
From a young age Carrie exhibited a rare skill at tennis, something her father, a former pro, nurtured. Her love of the sport and of winning served her well, as did her father coaching her for the majority of her career. Known as the Battle Axe for her fierce demeanor on and off the court Carrie had no interest in cultivating relationships with other players or in her personal life. Instead, she dominated the sport from the late 70s until 5 years ago in 1990 when she retired. Her Grand Slam record seemed safe at the time, but now a young Brit is about to tie it and at 37, Carrie has decided that's not going to happen.
Reid's storytelling skills are on full display in Carrie Soto is Back. As Carrie starts preparing for her comeback, we're led back through her journey from childhood to top champion. Then, the novel splits into the 4 Grand Slam events and the pace  ramps up as Carrie begins to compete.
This plot would be enough, but Reid's talent goes beyond the surface tension of top echelon athletic events to the reality of what it takes to be a human living in that world. Refreshingly, Reid doesn't stick cast Carrie's father as a media-obsessed parent living out their dreams through their child, but as a man who adores his daughter and has used tennis as a bond between them after her mother died.
The same nuance is applied to Carrie herself. There is no one pushing her, her persona on and off the court is the way she approaches life. At the same time, some of the behavior she exhibits while playing and in the media is remarked upon as tough, cold, and egotistical.  She is not charming, self-effacing, or outgoing and so is branded negatively.
Carrie's race to regain her status and Reid's astute insights come together to create an outstanding novel about a female athlete chasing the dream, living it, and fighting for it again AND what all that means to the woman behind the title. No knowledge of tennis needed, Carrie Soto is Back is a grand slam for all readers.
This post contains affiliate links which means if you click on a link and make a purchase of any kind, I get a small commission (at no cost to you).
*I received a free copy of this book from Ballantine Books in exchange for an honest review.*
Related Posts