Woman with a Gun
by
Phillip Margolin
Published by
Harper
Publication date:
December 2nd 2014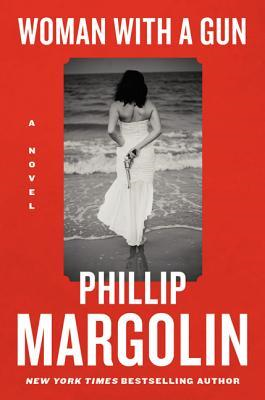 Stacy Adams wants to write a novel but is finding it difficult while stuck in a dead-end job as a receptionist at a NYC law firm. When she comes across a provocative photo of a woman wearing a wedding dress clutching an antique gun behind her back at the edge of the ocean she is instantly inspired and decides that this photo will be the basis for her novel. She learns it was taken on the Oregon coast so she decides to shed NYC and head to Portland to learn more about the photographer and the photo. And so, Phillip Margolin leads us into his newest novel, Woman with a Gun.
Once in Oregon, Stacey learns that the photo is of a socialite, Megan Cahill and was taken the night of her wedding to a man who turns up dead the next morning. Slowly she begins finding the people involved in that case, which was never solved and as she tries finding answers someone starts trying to stop her. Margolin moves the plot back and forth from present day to the original murder case and finally, back to a drug case where an untested attorney humiliated a hotshot from the D.A.'s office. With each layer it becomes clear that what was an artistic photograph actually contains the answer to a murder.
As a veteran mystery writer and former attorney Margolin keeps Woman with a Gun moving quickly with no missteps. The characters and backstories pile up but they do so with the precision of a Tetris game—each block fits together to form a cohesive whole. This makes for speedy reading but as more and more ancillary characters appear, each with their secrets and unsavory pasts, the novel moves into a realm that while not cliché does feel mechanical and a bit heavy handed. Not one of my favorites but still good mystery reading.
Related Posts