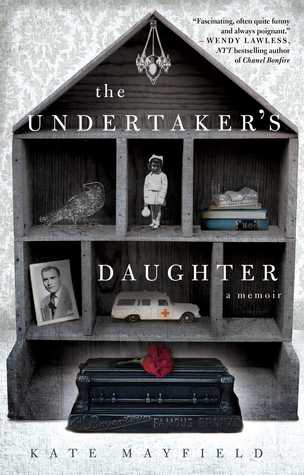 Kate Mayfield takes readers into the world of her childhood in The Undertaker's Daughter, a memoir that combines the unique circumstances of growing up in the 1960s in a small town in Kentucky while living above a funeral home. Through her we learn about a life and family held tight by the rituals of death. For Kate and her siblings, life was an odd combination of normalcy and living in service to death as their home was above the funeral facilities. When the call came, her father ceased being her parent and became the kindly and sympathetic man who guided the bereaved through their loss. She recounts these episodes, as well as the darker side of her family life, with a flair for storytelling and a wry humor that makes this memoir read like a novel.
What is most striking about The Undertaker's Daughter is that the stories of the facts of death and burial are expected to be dark, sad, and even salacious but for Mayfield it is her family and the dynamics of small town life that are the more confusing and difficult to understand. Her mother is not the nurturing kind but of the school that believes children need discipline and punishment more than hugs and kind words. Her father is the one who seems to enjoy her company and lets her spend time with him. He is the recipient of her childish love and admiration for his debonair appearance and dedication to the ethos of being an undertaker. It is only as she reaches adulthood that she learns what her younger self could not understand.
After I put the phone down, for the first time in the years and the distance that had passed between my mother and me, the penny dropped. How selfish my father had been, how hurtful, how careless…the deceit and embarrassment he foisted upon my mother would have been crushing.
Mayfield is able to combine these larger issues with the smaller ones within her family with an ease that gives both the weight they would have to someone of her age at the time. The Undertaker's Daughter includes not only the eccentricities of life in a small Southern town but layers in the confusion of not understanding what is happening in one's own family and in the world outside that family. For Kate, there is a mother and sister whose behavior is inexplicable but a cook whom she loves and a quirky old woman who, as the town's wealthiest citizen, becomes a large part of her family's life. The Undertaker's Daughter has the entertainment value of fiction but what makes it memorable are the very real aspects of puzzlement and confusion that come with growing up, no matter where one lives.
With my arms folded and my face screwed up in a stew I sat quietly, swelling with resentment and irritable that yet another person had died. But as I grew older and death continued to claim our citizens, I learned why silence was necessary: Respect. This is the word I heard consistently though out my childhood. When a life fades and ends, the family deserves a quiet place to mourn. I gradually made peace with a life that demanded to be lived in quantities of silence. 
Related Posts