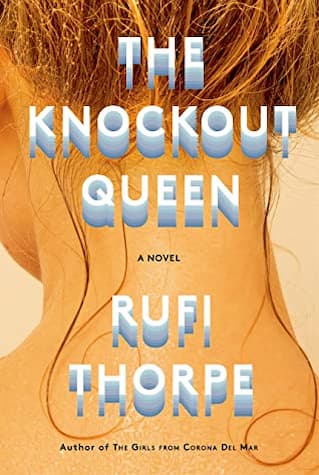 Michael and Bunny are the unlikeliest of friends. Polar opposites in almost every way: his mother is in prison so he lives with his aunt, while she lives in a mansion with her father. He is less of a young man than he is supposed to be with long hair, a pierced nose, small and slender. He likes other boys, but no one knows. She is literally too much of a girl. Growing and growing, taller than even the tallest boys in their class. They meet as 15-year-olds when Bunny catches Michael smoking in her yard and their odd, enduring friendship is at the heart of The Knockout Queen.
Initially, the two are slow to connect. Michael hangs back, more comfortable as an observer (and the novel's narrator) while Bunny lunges for him in her loneliness. She may have the money and the stability, but her wealthy father, although loving, as no idea how to parent so mostly acts as fun dad. Her mother died when she was young so she has no female guide, much less one who can help her as she continues to grow. Michael has always been on his own, coming from a household of abuse with a mother who's in prison and an aunt who loves him, but works two jobs to afford the small home that sits next to Bunny's mansion.
By spanning the years between high school and new adulthood author Rufi Thorpe homes in on the most awkward and emotional years of life. Michael shields himself with a goth armor, hiding his sexuality behind it. Bunny has nowhere to hide. She doesn't settle into all 6'3" of her exuberant physicality until she becomes a menace on the volleyball court. But these surfaces aren't where Thorpe likes to write. She goes out further, to the darker waters of isolation, identity, bullying, and fitting in. For Michael, it's Craigslist to find anonymous partners and the knowledge that he has no family to support him. What he does or doesn't do with this life is on him. For Bunny, it's a father who is skilled at making lots of money, but who lives like a frat boy and provides no boundaries. She's a superb athlete, but Michael knows more about makeup than she does.
As often as I was failing to pass as a straight boy during those years, Bunny was failing to pass as a girl. She was built like a bull, and she was confident and happy, and people found this combination of qualities displeasing in a young woman.
All they have is each other, best friends standing together.  That it can't last feels inevitable.
It doesn't. The rest of the world, mostly high school mean girls, crowds in and while Michael has the ability to duck and cover, Bunny's money has shielded her from consequences. Until neither of these options work. The façade of a wealthy California community shatters and both their lives are in pieces.
The novel becomes dredged in bittersweet sorrow as Michael and Bunny pass into their twenties. Through her aching prose, Thorpe conveys these two young people, in all their goofy awkwardness, their impulsivity, their yearning. The Knockout Queen goes down as one of those books I loved even though I thought much of what happened in the story was horrible and left me deeply sad. It's a sharp, wry character study of two mismatched teenagers trying to survive, but for one of them the heavy weight of fate is too much.
What else were you supposed to do with pain but polish it until it becomes something pointy and pretty?
This post contains affiliate links which means if you click on a link and make a purchase, I get a small commission (at no cost to you).
Related Posts