Luckiest Girl Alive
by
Jessica Knoll
Published by
Simon & Schuster
Publication date:
May 12th 2015
Genres:
Contemporary
,
Fiction
,
Mystery
,
Suspense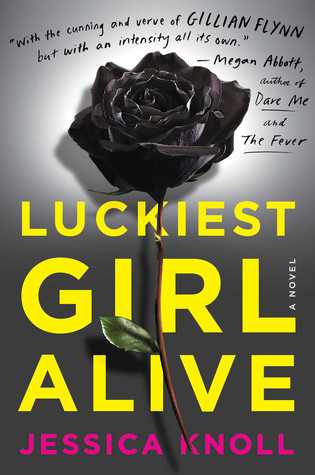 Ani FaNelli opens Luckiest Girl Alive by being just that: Perfect hair, perfect body, perfect fiancé and the perfect prima donna attitude to go with it all. Except that underneath, Ani is really TifAni from the far end of Main Line Philadelphia—Main Line being where the upper echelon of Philadelphia society lives and TifAni does not. However, her mother is determined her daughter get into the best private school there and with much financial finagling she does, where, despite her best efforts, she only hovers at the edges of the cool kids group much in the same way her zipcode hovers at the edge of Philadelphia respectability. Not too surprisingly, this desire leads TifAni into making one of those teenage girl dangerous decisions that impacts not only her but eventually everyone at her school. Hence the new persona a decade later—TifAni is gone and in her place is Ani who seems to have it all, but does she?
It used to thrill me when a women like this assumed I was cut from her cloth. It meant my mask was that convincing. When did that assumption start to strum the rage? 
Author Jessica Knoll moves well between the high school spheres of snarky fun turning into bullying. Her characters nip with puppy sharp teeth at what is kind-of-all-right and what is oh-so-wrong. In her desperate need to be one of the cool kids TifAni ends up being abused and follows the party line of 'it's all right because I just drank too much and don't really remember what happened' in order to maintain the status quo. These are the parts of Luckiest Girl Alive that hurt; the molten lava levels of pain and rage that exist beneath the exterior of a successful young woman who has it all. Has it all but still hates herself, blames herself for what happened in a rich boy's house one night with three of his friends, no parents and a lot of booze and drugs. That this event turns into something larger feels unnecessary. What happened to Ani is enough so bringing in more tragedy almost feels like diminishing what she went through. It is the only choice Knoll makes that didn't ring true and feels a bit gratuitous.
Luckiest Girl Alive captures the hyper-kinetic world of teenage life and so resembles the novels of Megan Abbott—novels that are itchy with teenage girl drama—but Knoll goes well beyond that with a broad spectrum of characters, each with their own psychological issues and needs. Some are amusing stereotypes while others speak more to the pain many experience. The pinnacle of these is Ani with a superficial oh-so-chic life and attitude that covers a deep reservoir of psychological damage. Can she find a way to really become the luckiest girl alive?
Related Posts