How to Get Filthy Rich in Rising Asia
by
Mohsin Hamid
Published by
Riverhead Books
Publication date:
March 5th 2013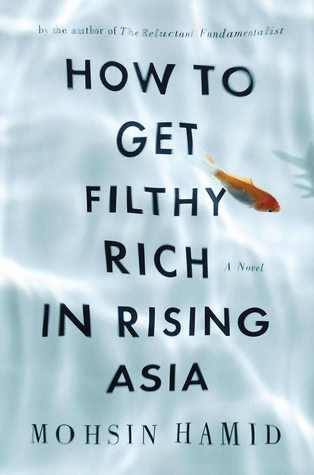 To be effective, a self-help book requires two things. First, the help it suggests should be helpful. Obviously. And second, without which the first is impossible, the self it's trying to help should have some idea of what help is needed. For our collaboration to work, in other words, you must know yourself well enough to understand what you want and where you want to go. 
How to Get Filthy Rich in Rising Asia is a sly slip of a novel written as a business self-help book and told from the point-of-view of 'you'. You, being a young boy in rural rising Asia who changes his family's entire destiny with a single word to his father. This propels them to the city where you begin to work as soon as you are able. And as any good get-rich book would do How to Get Filthy Rich in Rising Asia is broken into chapters with useful titles like "Move to the City" and "Learn from a Master". By following this advice you progress from small-time associate of a 'food distribution' company to starting your own company to, ultimately, running an empire that provides clean drinking water to much of the private and public sector of your country. Along the way, you have to learn some of the harsher lessons that come from being filthy rich as detailed in the chapters "Be Prepared to Use Violence" and "Befriend a Bureaucrat".
Author Mohsin Hamid mixes the humor of over-reaching aphoristic self-help advice with the realities of living in a large Asian metropolis to great effect. Writing in the second person is a dicey proposition because the reader is left without the internal workings of a character. Somehow, through the business language and social commentary of How to Get Filthy Rich in Rising Asia, Hamid does get personal. We see that in addition to a visceral desire to be filthy rich you always harbor a lifelong crush on a "pretty girl" you meet while still a teen. Her story unfolds in tandem with yours so the trials and successes of two very different careers are visited. Hamid is so successful in writing from this removed perspective that it is not until the last quarter of the book that it is clear being rich is not the subject but just one small portion of life.
How to Get Filthy Rich in Rising Asia may be purchased at:
Related Posts