Rare Objects
by
Kathleen Tessaro
Published by
Harper
Publication date:
April 12th 2016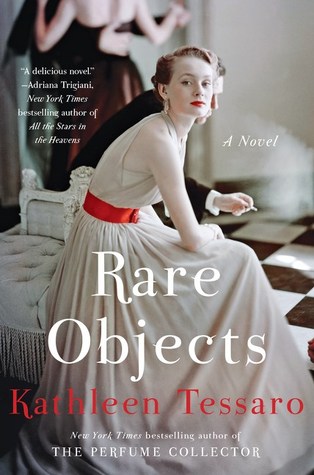 Before we've even met her Maeve has lived a lot of life for a twenty-five-year-old woman in the 1930s. After secretarial school she leaves Boston for New York City, using the lie of a big job opportunity as a way to get out of marriage and town. But because no such job existed in Depression era NYC Maeve ends up working in a dance hall on Broadway where only alcohol makes the job endurable. After she is raped by a man for stealing his gold watch she tries to kill herself and ends up in an asylum. These are not spoilers, they are recounted early in Kathleen Tessaro's new novel, Rare Objects, and go a long way to establish just how desperate Maeve is for a real job when she returns to her mother's apartment in Boston. It's only when she shortens her name to May and bleaches her bright red hair blonde that's she able to finagle a position as a sales girl at a small antique dealer. And begins another series of inventions for herself in an effort to get the life she wants.
My life was full of cracks, ever-widening gaps between the person I wanted to be and the person I was. 
Tessaro seasons Rare Objects with a diverse cast of characters ranging from Diana, a society girl Maeve befriended at the institution to Mr. Winshaw, the man responsible for finding and procuring the rare objects that fill the shop. Each are there to push and pull her in various directions, either towards a better self or to the easy way out. Tessaro uses plot in the same way and in combination with the numerous characters this can get a bit unwieldy, with a lot going on but no real certainty as to where it's going. It makes for a bit of a conundrum because many of the historical details are interesting, but they aren't pursued in-depth. Facts like Diana's family are Afrikaners is noted, but its implications are not explored.
Rare Objects succeeds as a catchy read, with the kind of characters who have dimensions and the presence to make the reader want more—which given the ending may be a possibility. While I would have appreciated further development of certain plot points, the fact that I came away feeling that I learned something is always a mark of not only enjoyable fiction, but authors I will come back to again.
Related Posts