Adnan's Story: The Search for Truth and Justice After Serial
by
Rabia Chaudry
Published by
St. Martin's Press
Publication date:
August 9th 2016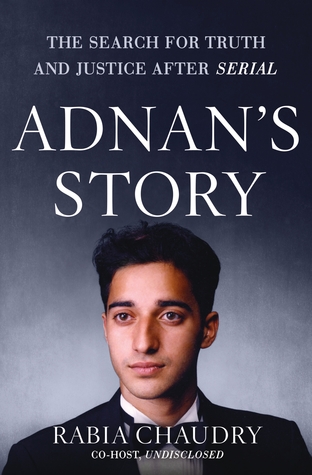 If you were one of the millions of people like me who were addicted to the podcast Serial then you may remember Rabia Chaudry. A family friend of the Syeds she is also a lawyer and has been a tireless advocate for Adnan since he was convicted in 2000 of murdering his former girlfriend Hae Min Lee. If Serial left you wanting to know more about Syed's case then you need to read her new book Adnan's Story. In it, she translates her fervent belief in Adnan's innocence into a staggering amount of research and a tenacity that is amazing in the face of a closed, hostile system.
Adnan's Story weighs in at 400 pages of a small font in a single-space-almost-no-margin format—this is not a true-crime mass market book hastily thrown together. Chaudry's narrative skills are as impressive as the documentation she presents, which includes written transcripts, notes from the case files, correspondence with Adnan and police documents. She goes through much of what was covered in Serial but in greater depth and breadth, going far beyond the podcast's surface analysis and research. But while Serial brought the case to the attention of listeners around the world it was made as entertainment journalism—not as any kind of legal device to help Adnan or to prove his innocence. Chaudry writes of the difficulties this ambiguity presented for herself, Adnan and his family. At the same time, getting his story out there rallied a group of people as diverse as private investigators, Innocence Project and Reddit members, all with specialized skills and the desire to find the truth.
Ultimately, it doesn't matter if you listened to Serial or whether you know anything about this case. Chaudry's work is so comprehensive it stands on its own. Yes, she believes in her friend's innocence (and honestly, now, so do I), but that is only one element of this case. Adnan's Story details how Serial, social media and the internet brought together an unusual team of people who were able to bring to light critical information about Adnan's original lawyer, the existence of an alibi witness, and most frighteningly, the malfeasance on the part of the Maryland justice system. The lies-upon-lies and coercion read like fiction, but are fact. Fact in the same way that the prosecution chose to use anti-Muslim sentiment and rhetoric to fan prejudice against not only Adnan, but the entire Muslim community in Baltimore.
Adnan's Story is some of the most compelling non-fiction I have ever read and Chaudry is to be praised for keeping it understandable in all its complexity. She carefully walks the reader through the tiny details that led to discoveries that, not only should have been made by the police, but would very likely have changed the outcome of the case. Yes, this is Adnan's story, but by the end of the book it is clear there has been no justice for either Hae Min Lee or Adnan Syed.
Related Posts