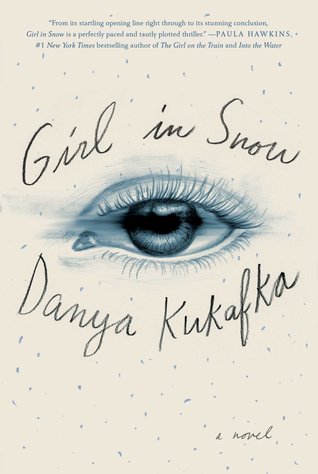 In real life, the victim of murder should always remain at the forefront of the story, but in fiction there is no such rule. The girl in Girl in Snow is Lucinda Hayes, a pretty teenager found dead on a school playground. Someone has killed her and while the townspeople may care, author Danya Kukafka is more interested in Cameron, an odd boy who likes to watch people in their homes at night; Russ, a veteran cop whose partner was Cameron's father until he ran away; and Jade, another teenager who uses her nihilistic attitude to cover up for a drunk mother who hits her. These three compose the melancholic music of the novel and Lucinda's death is only the finale.
Of the three, Cameron is the most closely tied to Lucinda because he's been obsessed with her for years—drawing her and watching her from the trees at the edge of her yard. Of course, he watches lots of people, it's what he does. It helps him deal with the feeling of Tangled; a feeling that hurts. If he can classify and sort the world and his feelings into collections, then he can feel Untangled.
Jade is a watcher in her own way. Unlike Cameron she is seldom a target of her peers because she's learned how to use violence to protect herself. She observes, absorbs, but keeps it all to herself.
You want to know what Cameron sees when he walks down this street under the forgiving cover of night. What he finds so fascinating. You want to know how he can stand in one spot for so long, with the explicit knowledge that his wanting will never be returned.
As for Russ, he's on the periphery except for his friendship with Lee, Cameron's father. A friendship that tested the bonds of loyalty when Lee was arrested for assaulting a woman. Now, Russ is torn between the people he loves and the job he needs to do.
In the span of three days, with writing that pierces, Kukafka makes these small lives pulse with life. Girl in Snow may include a mystery, but it is the least interesting aspect of the novel. If you need that pace and rhythm it's not here, but if you're ready to sink into deep fathom prose about the messy uncomfortableness of what it means to be an outlier in a small town then there is nowhere else to be. Girl in Snow is not a novel about Lucinda. It's about Russ, Cameron, and Jade and the wanting and needing that comes from loneliness. Emotions that, when misused, can lead to murder, but can also lead to the truth.
Related Posts