A Star Called Henry (Book #1)
by
Roddy Doyle
Published by
Viking Adult
Publication date:
September 1st 1999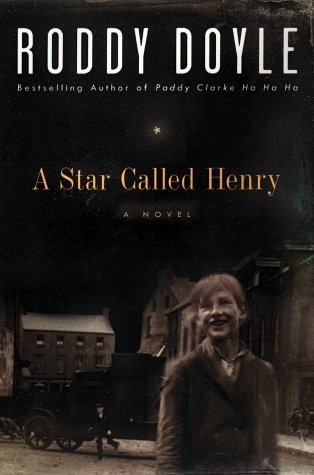 There may be a lot about the reality of historical Ireland that I don't like (being a woman and all), but fictionally, male Irish authors are some of the most lyrically gifted I've ever read. My longtime favorite was William Trevor (The Story of Lucy Gault, Death in Summer) and then this fall I added John Boyne (The Heart's Invisible Furies, The Boy in the Striped Pyjamas) and now, there is Roddy Doyle. The energy in his novel, A Star Called Henry, bursts off the page much in the way the main protagonist, Henry, races, dodges, crashes, roars, and charges through life.
Henry is a handsome one—so beautiful when he was born that his illiterate grandmother could suddenly read. By the time he was thirteen he was over six feet tall with eyes of a blue that made women swoon. His looks and surging life-force are the best of Henry's life. Otherwise, he's a mongrel whelp with a part-time father who is a bouncer and enforcer for a Dublin brothel and only has one leg, with the other being a wooden one that can beat a man to death. He disappears when Henry is still a little boy and his mother and the rest of his siblings are gone not long after, having been forced out of the hovel they were living in at the time and disappearing into Dublin's slums. Henry is left to himself and lives on the streets, grifting and stealing whatever he can to stay alive. It's the early 1900s and much like Henry, Ireland is infused with the desire to burn down the status quo and rule itself. He's fourteen when he meets James Connolly and Michael Collins and takes part in the Easter Rising in Dublin, and once the fighting and mayhem are done he finds
…for the first time in days—a lifetime—I felt alive again. I felt the blood running through me: I'd wrecked the place, brought it to its knees…I wanted to celebrate and cry.
A boy, who has been acted upon his entire young life is now able to act. It is a heady time for Henry as he becomes a captain in the new Irish Republican Army and a member of Sinn Féin. Suddenly, the skills that have kept him alive now have a purpose, getting the British out of Ireland at any cost.
And the British would hit back; they'd over-react. They always did. Over the next four years, they never let us down. It wasn't that they made bad judgements, got the mood of the country wrong: they never judged at all. They never considered the mood of the country worth judging. They made rebels of thousands of quiet people who'd never thought beyond their garden gates. They were always our greatest ally; we could never have done it without them.
Doyle uses Henry to encapsulate a slice of Ireland's fight for home rule without drying it out as history. He is so huge and vital, a survivor at all costs; a man with both tremendous pride but no illusions about himself. He epitomizes the Ireland he's fighting for. Is it grand and all it should be? No. But should it have the chance to make it on its own? Yes. As should Henry. But, as unique as he is with his take-no-prisoners charm and insolence, he doesn't stand alone in A Star Called Henry. Doyle makes each and every character—from Miss O'Shea, the schoolteacher Henry falls in love with, to his grandmother, the only person in his family he's in touch with—live and breathe with the same vibrancy. They are a cast of morbidly funny, violently independent, boisterous characters representing an entire country. Throughout it all, Doyle's words pop and fizz with exuberance. His writing is so sure that it's a voice in the reader's mind and A Star Called Henry is like being on a street in Ireland with the novel happening around you.
Related Posts