Emma in the Night
by
Wendy Walker
Published by
St. Martin's Press
Publication date:
August 8th 2017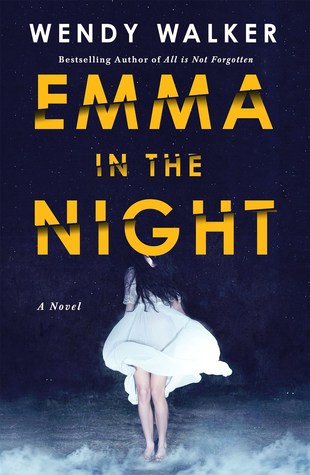 Apparently, I've moved from dystopian novels this summer to thrillers. On Monday I reviewed See What I Have Done a novel about Lizzie Borden, which I found fascinating more for its bizarre family dynamics than the actual murders. Now I'm back with Emma in the Night by Wendy Walker, a contemporary novel with a family that makes the Bordens look like the Brady Bunch. After being missing for three years, eighteen-year-old Cass shows up on her mother's doorstep and tells an astonishing story of what happened to her and her older sister Emma after they disappeared. It's a story of an older couple and an island off the coast of Maine. She has escaped, but her sister is still there and time is running out. But, for the forensic psychiatrist, Dr. Abby Winter, who originally helped search for the girls years ago, something doesn't add up. Actually, plenty of things don't add up, but can she get answers before it's too late?
Walker pieces together Emma in the Night using Cass and Dr. Winter as the speakers. As Cass supplies more and more precise details of her captivity, Dr. Winter provides insight into the psychology of narcissistic disorder—something it seems Cass's mother, suffered from and inflicted on her daughters. Chapter by chapter more dysfunction emerges and it spreads until every member of the family is shown to be manipulating the others for their own twisted benefit. The girls battle between themselves for their mother's fleeting attention and then after their parents' divorce they pit their parents against each other in deciding where they want to live. When mother's new boyfriend moves in, with his teenage son, the games ratchet up a notch. Until Emma decides it's time to take control by finding someone willing to help and leaving the snake pit behind.
Except, of course, it doesn't work that well. Help comes at a price and in Emma in the Night everyone has a motive. For me, this brought on a raging case of skepticism almost from the very beginning. Cass was simply too aware of her performance in front of her family and investigators. Which is not to say she had any involvement at all because, if nothing else, Walker creates a world where nothing and no one can be believed. These contortions went too far for my taste, but if you're looking for fast summer reading that messes with your mind and then makes your head explode, Emma in the Night is the right book.
Related Posts