Anatomy of a Miracle
by
Jonathan Miles
Published by
Hogarth Press
Publication date:
March 13th 2018
Genres:
Book Clubs
,
Contemporary
,
Fiction
,
Literary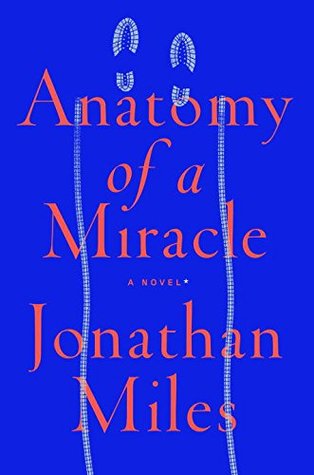 Cameron Harris is a patriotic young man who goes to Afghanistan and returns home paralyzed from the waist down after stepping on an IED. When Jonathan Miles's new novel, Anatomy of a Miracle opens he is back in his hometown of Biloxi, Mississippi living with his sister Tanya. Days are spent watching TV, smoking, taking the cornucopia of pills he's been prescribed, and drinking beer. It is on when of their trips to the nearby convenience store, the Biz-E-Bee, as Tanya is inside buying Cap'n Crunch, that Cameron gets an odd feeling in the lower half of his body, and then…stands. And walks. Just a few steps because he's been paralyzed for four years, but it is enough to turn their quiet town upside down. And much like the landmine that severed his spinal cord, these steps blow Cameron's life apart.
It doesn't take long for the ripple effect of Cameron's recovery to spread. Initially, a local reporter shows up, which spurs a call from Cameron's VA doctor, Janice Lorimar-Cuevas, and a visit to her office where, as a doctor, she is at a loss to explain how a spinal cord could regenerate itself. There is no answer in Cameron's MRIs nor any historical precedent, but as a doctor she is unable to use the word 'miracle'. There must be some explanation and she's determined to find it.
As Cameron slowly begins to adjust to his new situation the ripples turn into waves. A local priest shows up and subjects Cameron and Tanya to rigorous questioning that is the prelude to a long-dead American priest being nominated for sainthood. The owners of the Biz-E-Bee find their small store besieged with tour buses of the faithful showing up to stand in the spot where Cameron rose and taking photos of everything in the area. In response, they stop stocking supplies the regulars buy and go all-in on religious memorabilia, watching as they go from being near bankruptcy to making money for the first time in their lives.
The waves become a tsunami when Hollywood steps in and a director approaches Cameron to star in a reality show (to be called The Miracle Man) that will document his life going forward as he searches for answers to his healing. It's no surprise that this goes from possibly being of merit to Cameron getting veneers for his teeth and Tanya becoming the show's focus because she's got more personality. Filming takes over their lives, spinning them out of control until reality becomes unreal.
With such an intriguing and controversial subject Miles could lead Anatomy straight over a cliff of the absurd. Instead, he presents an average man who is not religious, but self-aware enough to know that if he's being held up as a miracle either he ought to have done something to deserve it or he'd better do something bigger with his life now. He chooses the supporting cast just as carefully, with the VA doctor representing the world of facts and science and an Italian investigator from the Vatican representing religion. Miles doesn't take the easy route of making them caricatures but gives both welcome depth and the same mission—to find the truth, as difficult as it may be.
How Miles draws together such a cast of opposites and varied beliefs is one of the best aspects of Anatomy. You have science, religion, and capitalism all converging on a 26-year-old man with a high school education who freely admits he has no understanding of what's happened or how it could happen or what it means. Mostly, he wants to know how this could happen. What he is not ready for is people delving into his past and here Miles adds another surprising element to the story. One that doesn't rely on shock value or taking the easy way out. Instead, it complicates the story and gives the reader even more to contemplate—something I relish in a novel. Which is why, in all its messy, contradictory humanity, Anatomy of a Miracle is an intelligent, humorous, deeply rewarding novel, regardless of your take on miracles.
Related Posts