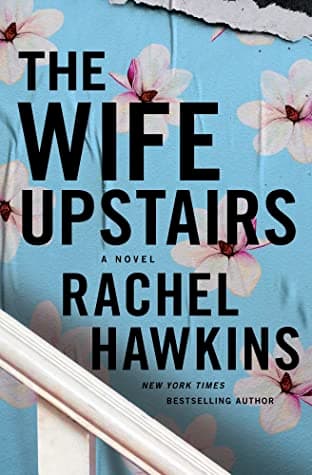 I'm a fan of modern retellings of classics. I realize they can risky and there are times they don't work (I'm looking at you Anna K), but when I saw someone was taking on Jane Eyre I was ready. The Wife Upstairs is set in Birmingham, Alabama not England, and is about Jane, a young woman trying to build a new life for herself. She walks dogs in a wealthy neighborhood, daydreaming about one of the beautiful mansions she sees. A palatial estate where the tragic Eddie Rochester lives alone after the death of his beloved wife, Bea. A Southern lifestyle entrepreneur she and her best friend drown and their bodies have never been recovered. There you go. Set-up complete, all the players in place, including the snobby, rich, entitled women Jane envies.
On one of her walks Jane meets Eddie and learns that he has a puppy, but doesn't have the time to walk it. He offers her a job. Much like her other jobs it puts her on the periphery of wealth. She's in gorgeous homes, often alone, but doesn't belong. We soon learn she doesn't belong anywhere, that her life has been a series of foster homes. In an unsurprising move, the two become involved. The only surprising aspect is how quickly it happens. Eddie moves Jane into the house, tells her he loves her, gives her total access to his credit cards and finances. This is the first alarm that went off for me. Not for Jane's sake, but because the pacing felt so off.
We soon learn that everyone has secrets. Jane's are big enough that she's being blackmailed and Eddie's…well, his is a biggie I can't discuss. Needless to say, it's worth noting that his dead wife, Bea, is the other narrator with Jane in the novel. She's the truth teller, both about her marriage and the world they moved in.
There are interesting elements in The Wife Upstairs, but not enough for me to really enjoy the book. The uneven pacing is exacerbated by characters with confusing motivations. If things had become clear by the novel's ending I could give credit for that, but they never did. My impression of the novel was probably impacted by reading a Goodreads synopsis that extols its "fresh, feminist sensibility". What? Did I miss something?  Jane's only goal in life is to marry a rich man. Not to become rich through her own endeavors…just money. I'm not sure that qualifies. That, plus the comparison to Jane Eyre, set a high bar that The Wife Upstairs doesn't clear. If you want quick, wealthy-people-behaving-badly reading then it works. For something you can sink your teeth into, reread Jane Eyre instead.
This post contains affiliate links which means if you click on a link and make a purchase, I get a small commission (at no cost to you).
*I received a free copy of this book from St. Martin's Press in exchange for an honest review.*
Related Posts