Ohio
by
Stephen Markley
Published by
Simon & Schuster
Publication date:
August 21, 2018
Genres:
Contemporary
,
Debut
,
Fiction
,
Social Issues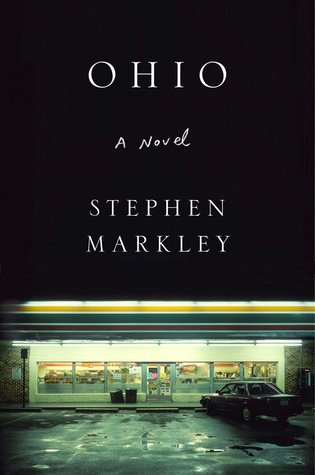 I don't focus on writing negative reviews, but at the same time, when a new novel is getting a lot of hype, my reading friends want to know what I think about it. In this case the novel is Stephen Markley's debut, Ohio. If all you need is a one sentence opinion then here you go: The novel is a grim mash-up of the plot from 13 Reasons Why and the setting of Hillbilly Elegy and I'd advise reading either of them over this book.
Ohio centers around four classmates in New Canaan, Ohio and is split between two timelines—the present and high school. Bill, Dan, Stacey, and Tina all moved in similar circles, namely those of athletes and their girlfriends, with Markley visiting them in their high school personas and where they are now. Which is nowhere good, as the plot circles around the mystery of sexual abuse suffered by one of the characters, blackmail, the disappearance of another friend, and murder.
My initial problem with Ohio is Markley's love of descriptors. Take this paragraph from the first chapter:
He spent a couple of minutes freeing all this handiwork, peeling at gobs of tape that lacquered his finger, plucking drunkenly at knots, marveling at how the black configurations of an internal combustion system could look like the phantasmagoric dream-empire likely ruled by a barbaric autocrat. 
What should be a straightforward explanation of a character's actions is lost in baroque prose that seems designed to show off his mad vocabulary skills. Throughout Ohio the reader is bludgeoned with excessive words, which is sad because, stripped down this is a brutal story, one that should be told in the starkest of tones, not tarted up with extraneous words.
Which leads me to whether the story should be told. Markley takes the worst of the worst in today's news, from CTE, sexual assault, the loss of manufacturing in America, to crime, political corruption, the meth crisis…name it and one of the characters in Ohio has dealt or is dealing with it. I don't mean to be glib, this novel is the fictional equivalent of the socio-economic situation in Hillbilly Elegy, and should not be taken lightly. Which isn't even possible because Markley has a lead foot and is pressing the accelerator all the way down, from the novel's opening scene where one young man is being honored for dying in Iraq to the bleakest high school reunion I've ever heard about to an act of revenge that is stunningly horrendous. It's all too much.
I would not recommend the novel unless you're looking to sink into darkness without hope, because there is no redemption or peace to be found in Ohio. If you're ready or interested in exploring the worst of teenage America then the story may scratch that itch. The characters range from average teenage angst to flat out evil—and they don't change much as they get older. Coupled with overblown prose this was a poor reading choice on my part.
Related Posts