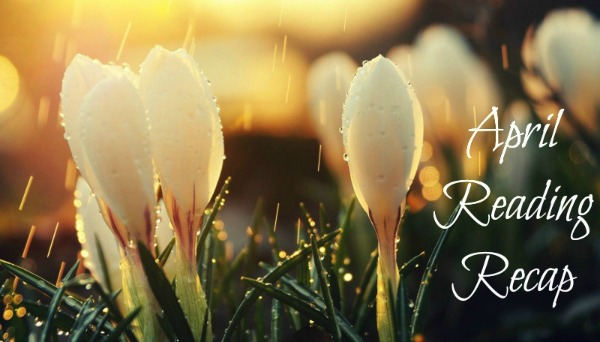 Don't faint, but I'm not going to complain about my reading this month! Nope. Suffice it to say, April was a month of more highs than lows. 

It was also one for the record books. I read more non-fiction this month than I have all year. 

Thanks to super recommendations from bloggers I trust and the Seattle Public Library's Peak Picks program  (every branch has limited copies of brand new releases, first-come-first-serve, no hold list) I walked into some amazing real-life reading. 

In f

iction I read two 5 star reads and seven 4 star. I had a very happy April!
Run Fast. Eat Slow.: Nourishing Recipes for Athletes
by
Shalane Flanagan
,
Elyse Kopecky
Published by
Rodale Books
Publication date:
August 9, 2016

Run Fast, Eat Slow is chock full of recipes that look yummy and healthy. I heard Tara at Running 'n' Reading talking about it so took a look. She's one of those women who inspires me with her dedication to her sport which, surprise, is running. A lot. And fast.  The recipes combine unusual ingredients, especially superfoods, in ways that are delicious. I made the Chocolate Chocolate Teff Cookies and they were really satisfying. I had no idea what teff even was, but it's a kind of flour that comes from a gluten-free grain.  The main issue with the book is no surprise—it is geared toward long distance runners and as such is mainly carb heavy recipes. Not a problem unless your focus is on gaining muscle through strength/weight training, in which case you need more protein-centric recipes. The other thing I was quite surprised by? No nutritional breakdown for any of the recipes. Most athletes want/need to know where their calories are coming from. Still, I highly recommend it for healthier eating, whether you run or not.
The Lady's Guide to Selling Out: Review to follow
Educated: My review
The Perfect Nanny by Leïla Slimani
Published by Penguin Books
Publication date: January 9, 2018


The Perfect Nanny is the epitome of the 'ripped from the headlines' genre as it's based on the Manhattan nanny killings of 2016. Slimani sets the novel in Paris, but much of the rest of the plot matches up. It begins at the end, a mother screaming and two dead children. Except that it's fiction and she goes deep into the psychological portraits of the main characters—the parents and Louise, the nanny. It's well-written, but terribly depressing. There is no massive warning sign as to what turns a competent nanny into a lunatic who kills two children. It feels as if everyone is to blame—mothers who want to work, anyone who hires a nanny, and the nannies themselves. A quick, but bleak novel.
Demi-Gods
by
Eliza Robertson
Published by
Bloomsbury Publishing
Publication date:
April 10, 2018
Numerous other reviewers have pointed out that Demi-Gods is not for everyone and for once, I fall smack dab into that category. I like provocative and uncomfortable in my literary fiction, but at less than 50 pages in the character of Patrick is too sick for me to be interested. He's a sadist to his younger step-sister and according to the synopsis this relationship is going to continue into their adult lives. Thanks, but no thanks.
p.s. My opinion is not helped by this being one more author who feels as if quotation marks for dialogue are passé. Maybe so for light, easy reading, but when you're plumbing the depths of male depravity, cut the reader a break and delineate dialogue.
Only Child: One of my 5 star choices for the year. Tender and all-too relevant. My review
American Radical: Fascinating story of a Muslim undercover FBI agent. Review to follow
Carnegie's Maid
by
Marie Benedict
Published by
Sourcebooks Landmark
Publication date:
January 16, 2018

Carnegie's Maid is the new novel from the author of The Other Einstein, which I thoroughly enjoyed. It is basically light historical fiction based on the premise that Andrew Carnegie's contact with his mother's young Irish maid is what led him to found and fund the first public libraries in the U.S. That falling in love with her and seeing her intelligence and business sense changed him. In reality, the question of why he went from ruthless (sometimes unscrupulous) businessman to philanthropist has never been answered so Benedict feels in the blanks with a winsome, but intelligent and impoverished immigrant. Hhhhmmmmm. It's an interesting look at the plight of immigrants in America in the late 1800s, but it doesn't have anywhere near the focus on women that Einstein did. Feels more like historical chick-lit. Fine for what it was.
Gods of Howl Mountain
by
Taylor Brown
Published by
St. Martin's Press
Publication date:
March 20, 2018

Taylor Brown knows his way around descriptive writing and brings the mountains of North Carolina, but I'm going to chalk Gods of Howl Mountain up to—not on a subject I care about. I'm all for reading outside my own experiences, but it turns out I'm not interested in 1950s Appalachians, moonshine-running, drag racing men. There's a mystery at the heart of the novel but even that was never quite clear to me. Instead, the protagonist falls in love with a snake-handling Pentecostal woman while trying to stay ahead of the government and other bootleggers. He lives on the mountain with his granny, a former whore and whore house owner, who now offers natural and herbal healing and lots of pithy advice. This could definitely be great reading for someone else, but for me it never got past good-ish.
Circe: It's early, but This may end up being one of my favorite books of 2018. My review
Eleanor Oliphant is Completely Fine: Review to follow
Great Reading Options from Past Years
April 2014:
April 2013 (apparently a banner reading month):
Related Posts