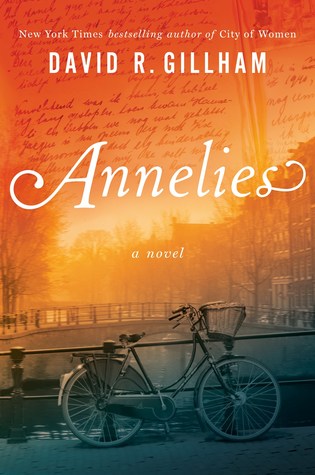 As much as I love historical fiction, there are some people who should be left to history rather than brought back in fiction. After reading David Gillham's Annelies I believe Anne Frank is one of these. She is too deeply imbued by her own writing, the writing she left behind to be reconsidered by another writer. Gillham uses the premise of Anne surviving Bergen-Belsen and returning alive to her father, to give the girl the life she never had. But his imagining of the Anne who lived, as he follows her for a year after the war is so different from the Anne we know that it is almost impossible to reconcile the two.
The Anne in Annelies, is a being filled with an incandescent rage against anyone who survived—including those who were also in camps or imprisoned. She seethes with bitterness, doubting and questioning even the people who hid her family for years. She is sullen and cold to her father, blaming him for failing to protect their family. She feels guilt over the death of her sister, Margot, but feels no responsibility for the results of her actions after the war. In short, she is a dreadful person who evinces no sympathy. Obviously, I have no idea what such torture could do to a person, but even knowing what she suffered it is difficult to imagine this is the teenager who would emerge.
Beyond Anne, Gillham does well with the story in Annelies. The other characters are all well-drawn and believable as they try and stagger back to normalcy after years of war, Nazi occupation, and deprivation. Also, in how they respond to this new Anne, trying to navigate her moods and mitigate her anger, even as they themselves are often dealing with loss.
It's not just Gillham's decision about the Anne he chooses to portray, it's the writing as well. At times it's flip in tone or almost childish, which is jarring. This combination left me feeling that while 'what-if' fiction can lead in interesting directions there are some people who are best left to memory. I appreciate Gillham's leap of faith in trying to reconstruct a beloved young girl after extraordinarily horrific circumstances, just not the outcome. Is it possible that Anne Frank would have emerged from the horrors of a concentration camp as a dreadful, selfish, vindictive person? Yes. But do I feel enriched thinking of her that way? No.
Related Posts