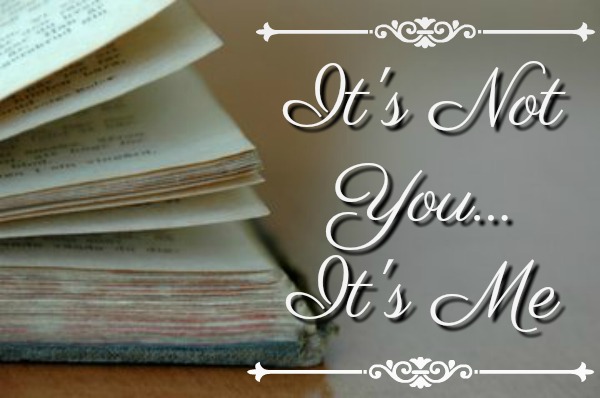 Back for the first time in 2017, it's the It's Not You, It's Me review extravaganza. All right, maybe not an extravaganza, but I do have two books I read recently that did not ring my bell but might be just right for other readers.
The Fortunate Ones by Ellen Umansky
Published by William Morrow
Publication date: February 14th 2017

Parallel stories of family, art, and loss are at the center of Ellen Umansky's new novel, The Fortunate Ones. In the present, Carrie's father has died and when she goes home to help settle his estate she learns the history behind a valuable painting that was stolen from him. In the past, eleven-year-old Rose and her brother are sent by their Jewish parents from Vienna to the safety of England. They will never see each other again nor will they ever know what happened to the beautiful art in their home. Carefully, with forays into the dynamics of family and history, Umansky brings Carrie and Rose ever closer, until they meet.
Amongst the atrocities perpetrated by the Nazis the widespread theft of Jewish art is one that could be rectified and yet, very often is not. Fiction aside there are real recent cases of art known to belong to Jewish families that is still in the hands of Germans and is not being returned. The Fortunate Ones approaches this situation from opposing sides—the original owners and the more recent ones. In both cases, Carrie and Rose have a great deal of baggage to sort through. For Carrie it is that the painting was stolen when she was a teenager due to her inattention. For Rose, there is what the painting represents—the parents she never truly said goodbye to and a past she can barely remember.
It may be that my taste for art based fiction has been sated by such wonderful novels as The Art Forger, Tuesday Nights in 1980, The Tsar of Love and Techno and The Improbability of Love and now the bar is set so high that even very good novels won't measure up. Whatever the reason, The Fortunate Ones did not grip me. I set it aside for a week before finally finishing it. One, only Rose's story evokes real emotion. Even when the two women become friends, Carrie is painfully tone deaf to the 'value' of the painting for Rose and the circumstances under which her father acquired it. Two, this was not a case of bad writing, simply a story I felt I'd read before.
The Trophy Child by Paula Daly
Published by Grove Press
Publication date: March 7th 2017

With a title like The Trophy Child I was all set to settle into what I thought would be a farce about one of today's most easily identifiable tropes: the child who's been elevated by their parents to a standard of achievement not seen since DaVinci. My bad for not reading the synopsis—it's a mystery replete with troubled teens, kidnapping and the problems created by the illusion of perfection. All in a small English suburb. Which is fine—I'm loving mysteries these days.
Daly arranges her characters with a neat proficiency right from the beginning of The Trophy Child. Verity is a teenager who has been required to undergo counseling for trying to throttle her stepmother. Noel is her father—a doctor who's also a womanizer and likes to drink. Karen is the ubiquitous tiger mother and the sweet, quiet Brontë is the average ten-year-old focus of her formidable energy. On the fringes of this family unit are Verity's mother, who is in an assisted living home due to MS and Karen's older son who lives above the garage and seems to have no interests outside of gaming and marijuana.
When Brontë disappears this family unravels more quickly than a Walmart sweater. A female detective is put on the case and happens to be a woman Noel recently had a one night stand with and lied to. Verity was supposed to be watching Brontë and Karen wants her interrogated. Karen wants everyone interrogated and alienates anyone trying to help. Soon enough, there's nothing but a puddle of yarn left in The Trophy Child.
It may be that, after Dead Letters, I'm jaded, but The Trophy Child did not deliver. I found several aspects of the plot to be unbelievable. Karen is without any semblance of nuance—a scheming, shrewish narcissist and Noel a weak-willed cad. Not only should neither be parents, but as characters they're uninteresting—except for the effect they have on their children. Backing off on the stereotypes would have created more tension, but, again I'm willing to admit that I may need more adrenaline these days and that it's not the novel, it's me.
Related Posts