Life After Life
by
Kate Atkinson
Published by
Reagan Arthur Books
Publication date:
April 2nd 2013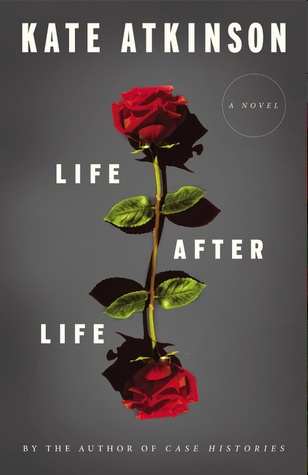 Ursula Todd is born at home in the winter of 1910, but without medical supervision she dies before she can take her first breath. In succeeding chapters, she returns and each time a twist of fate changes her destiny. Once, the doctor has arrived and there are no problems and another time her mother is able to take action. This is our introduction to the fact that Ursula is a very unusual girl. Her life progresses in fits and starts and when/if it is cut short too quickly she is sent back for a cosmic do-over. The complexity of the plot and the fact that author Kate Atkinson sets her newest novel,  Life After Life, in the middle of not one, but two World Wars means that this is a massive literary undertaking. As a reader, I almost resorted to flow charts in the beginning, to ascertain who existed and who did not, but Atkinson's prowess with her material is such that this is not an ongoing concern.
Ursula's story, with its versions both great and small, makes for engrossing reading. Her many iterations include marriage, motherhood, affairs, the premature loss of family members, and numerous careers. She lives on both sides of World War II. Each lifetime, as she resurfaces, she tries to become more adept at changing the lot she has been given and yet, the further it goes the more difficult it becomes. For every year there are more and more moving pieces; how to control all of them to effect change? How much can one memory hold without giving the outward appearance of insanity? Her brain is not scrubbed clean each time so the detritus of every life accumulates, but not completely or neatly. Each incarnation is launched with the knowledge of her previous actions, but only in tiny scraps and pieces.
And sometimes, too, she knew what someone was about to say before they said it or what mundane incident was about to occur—if a dish was about to be dropped or an apple thrown through a glasshouse, as if these things had happened many times before. Words and phrases echoed themselves, strangers seemed like old acquaintances.
Given that it is not only Ursula who is redrawn each time, but every member of the cast, Atkinson does a meticulous job filling in the ancillary characters. As Ursula ventures back and forth and their lives change, we see them like a prism, refracted and piercing, growing brighter or all but disappearing. The women are especially well-done, with Ursula's pragmatic but pithy sister, Pamela, being one of the most steadfast characters in that her destiny does not change. Their mother, Sylvie, is a bit of mystery, seeming to revel in her role of materfamilias but somehow not quite content. Both she and Pamela provide some of the book's wittiest dialogue and are a touchstone for Ursula as she disconnects and reconnects with her life.
Life After Life is a book that will engender much discussion as its plotlines weave and wend their way through the greater schemes of world history and the smaller ones of a family history. Atkinson opens the door to questions such as: would it be possible to change the course of the world? How many lifetimes would it take to master every detail of one's history so that it played out with greater gains than losses? And which life is the real life? There are no easy answers in Life After Life but even as the questions pile up the reader will remain enthralled.
That was the problem with time travel, of course (apart from the impossibility)—one would always be a Cassandra, spreading doom with one's foreknowledge of events. It was quite wearyingly relentless but the only way that one could go was forward. 
Life After Life can be purchased at:
Related Posts