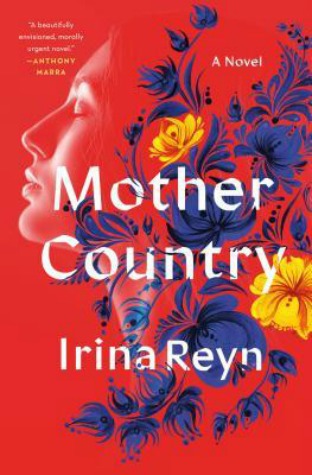 Nadia's life is not an easy one. She works not one, but two jobs—as a home attendant for an elderly man and as a nanny for a little girl. It's necessary because she lives in Brooklyn while her daughter Larissa is still back in Ukraine. They've been separated for six years. Lonely years for Nadia as a non-English speaker, looked upon with distrust by the other Ukrainians she meets, for being from the eastern half of the country and an ethnic Russian as well.  It makes for a difficult life and complex reading in Irina Reyn's novel, Mother Country.
Nadia first applied for visas for herself and Larissa when Larissa was nine. She had no way of knowing it would take twelve years for them to be approved, meaning Larissa would age out of being a dependent child. Nadia can still go, but without her daughter. They're told that if she does go it will be a quick process to apply for a family reunion visa for Larissa. To Nadia, the chance at a better life is worth a brief separation, but to Larissa it is a complete betrayal. A betrayal exacerbated by the fact that six years later there is still no visa for her.
Now, in 2014 Nadia's every waking moment is spent working for money and to get her daughter back while Larissa's life is consumed by trying to stay alive. She's a teacher living in a war zone with at least three factions vying for control. The bombing in their city is constant and results in a fatalistic humor among Larissa and her friends
Inside the bathroom we dress in our best bra and panties. The girls from work joke that if we don't survive the walk to school or back and our body is splayed out on the sidewalk for all to see, it's far preferable to be discovered in respectable underthings…controlling our appearance is all we have.
The political situation in Ukraine permeates Nadia's life as well. Most of the people she encounters in Brooklyn are ethnic Ukrainians from the western half of the country so, as an ethnic Russian from the east, she is looked upon with anger and distrust. Her fears grow as she watches the news and sees Putin's push to "reunify" Russia by invading Crimea and separatists fighting in the area where Larissa lives.
There is a lot to absorb in Mother Country, but what struck me most was the portrayal of motherhood. In The Island of Sea Women there was strength and a deep cultural bond based on knowledge passed from mother to daughter. In A Woman is No Man cultural oppression made it impossible for Isra to take care of herself, much less her daughters, but the love was clearly there. The cultural impact in Mother Country is a feeling of Communist-era coldness. Nadia is forced to be pragmatic and even brusque with Larissa. Her decision to leave her behind seems heartless, but for Nadia, emotion is a luxury she can't afford. Every choice is calculated, but while the lack of emotion was foreign to me, I came to understand Nadia. She is a different but no less compelling iteration of mother love.
To all the mothers out there, have a lovely day Sunday! To my own mother, thank you for everything you've given me, but especially my abiding love of books and reading.
Related Posts