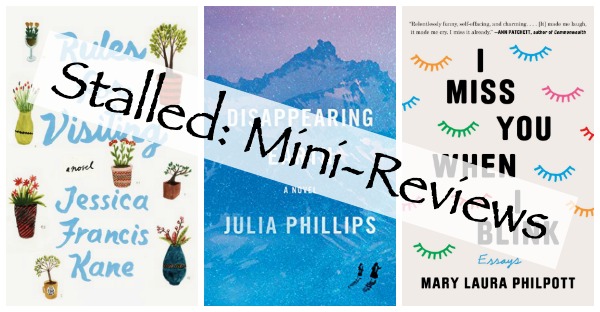 In the past I've done a feature called It's Not You It's Me to indicate books I didn't enjoy but that I believe other readers might like. Today is a bit different because in those cases I finished the books. With these three books I stalled out, set the book down and never came back to it. This is likely due to my personal circumstances—namely moving across country with a lot of variables in play.
In short, my brain is fried and I need a particular type of reading, one I can't easily verbalize, but, like porn, I'll know it when I see it. These books started out strong, but then just slowed to the point where I was able to set them down and not pick them up again. Which means any one of them might be great for another reader!
Disappearing Earth by Julia Phillips
Published by Knopf
Publication date: May 14, 2019


Bookshop, Amazon
Disappearing Earth opens with two young girls being abducted from a small town on a remote peninsula in Russia. It's June and from there the novel breaks into months for the next year. Each new month introduces an entirely new set of female characters living in the region. From this point on, there will only be vague references to Sophia and Alyona—their names flickering in and out of conversations either in sadness or as a cautionary tale.
The novel is fascinating for its representation of a people who deal with the same issues people do the world over—skin color, urban versus rural, the old ways of life disappearing. It's interesting because skin color as a source of status is not something I associated with Russia—especially in its northern most region. Each of these women lives in a vague state of resignation or resentment for lives that didn't turn out as expected. They all get married when very young and almost immediately start having children. While these aspects surprised me, after about the third story, the point that being a woman in this part of the world is inherently unsafe. It covers the novel in a dense gray pall.
I knew Disappearing Earth was going to be a novel of women, but I did not think the sisters would be so ancillary to the plot. Their thread is too fine, too tenuous to hold the novel together. They are truly lost. If you like short stories, this will be tempting reading. For me, it was the first time I realized I don't like novels about little girls disappearing without any sort of resolution—even if that is the case in the real world.
Rules for Visiting by Jessica Francis Kane
Published by Penguin Press
Publication date: May 14, 2019

This book was disappointing because I was really looking forward a novel about a middle-aged woman re-evaluating her life through her friendships with other women. May is 40 and has been given a sabbatical from work. She decides to use the time to go visit old friends and this, I hoped, would provide the foundation for a lovely novel about self-discovery and female friendships.
In the beginning, there's a musing nature to the story that is charming, as May shares information about her neighbors, her father, and the town where they live, but without momentum, the charm grows stale.  I was looking for introspection and relatable reflection on the questions of midlife, but by 66% of the way through got entropy. However, this is one that could be a right-book-wrong-time so I'll revisit it later in the year when I'm more settled.
I Miss You When I Blink: Essays by Mary Laura Philpott
Published by Atria Books
Publication date: April 2, 2019



Bookshop, Amazon
There has been a tremendous amount of hype around Mary Laura Philpott's book of essays I Miss You When I Blink. In her first essay she explains the book's title:
I miss you when I blink. I have felt it so many times in my life, at points where I didn't really know who I was anymore, where I felt that when I closed my eyes, I could feel myself gone.
What's not to love about that? It's a sentiment that most of us have felt at least once in our lives. I agreed with public sentiment all through the first half of the book. After which I set it down and when I picked it up again Philpott had reached the pregnancy and motherhood stage of life—subjects that really don't interest me, which means I set the book back down again and didn't pick it up again. I may have missed out on life-changing wisdom in the remaining 15 chapters, but my relationship with nonfiction is such that if I lose interest it's almost impossible to get back.
Having said that, Philpott is a hoot. I may have only read half of the book, but I highlighted a disproportionate number of sentences that made me not only laugh, but think Philpott was in my head. If you have a bit of patience and are ready for life experiences different than your own (in my fiction yes, but not in real life right now), then I Miss You When I Blink  will be a favorite.
How is your summer reading going so far? Any books that you've stalled out on, but think others might enjoy?
Related Posts