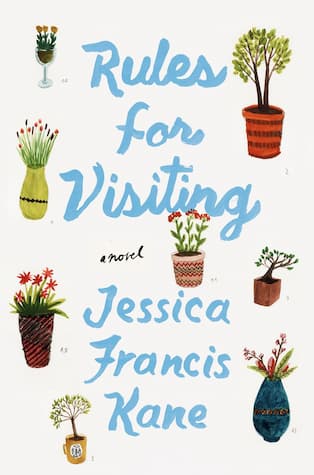 May Attaway is given a monthlong sabbatical from her job as a gardener at a local university. At 39 she worries about her lack of relationships so decides to split the month into four non-consecutive weeks and go visit four friends she's lost touch with in the hopes of kickstarting her personal life again. This is Rules for Visiting, a quiet novel that won me through its writing.
Originally May studied to be a landscape architect—a more prestigious title and job, but realized what she really loved was the plants, being outside, and working alone. A career opportunity near her parents allowed her to work, but live at home to care for her sick mother. After her mother death there was no impetus to leave so she continues to live in the family home with her father. Now, she has a sense her life has stalled—everyone she knows is married, having children, moving, being promoted. She worries about her aloneness, that she hasn't maintained the friendships in her life, and that she hasn't felt compelled to change.
I was not interested in finding out who I was alone, which seemed to be the goal of many who explore the power of a year's effort toward something. I knew that person and I was tired of her. I was interested in figuring out who I was with other people, and why that person was hard to be.
This probably won't come as a surprise to anyone familiar with my reviews, but Rules for Visiting is not a cozy novel about reconnecting with long lost friends. This is reality—the uncomfortable coming together of people who haven't been in touch for decades aside from Christmas cards and random phone calls. At the same time in the midst of all the awkward there are the unexpected special moments with people who know a part of ourselves we may have forgotten. Through the visits May's reconnection with her friends is important, but even more vital are the realizations she comes to within herself.
The inner aspects of Rules for Visiting work so well thanks to Kane's portrayal of May. She's a steady, quiet person on the outside, but with a deep well of very dry wit on the inside. A critical element as, by-and-large, the novel is observational, May's musings as she walks and works about her neighbors, her father, and their town.  It's enhanced by the fact that her way of relating to the world is through gardens and trees, defining people by their plants and the care they take with nature. It's not only funny, but informative, a wonderful bonus I appreciated. My copy of the novel is highlighted with notes asking, "Is this true?" about the many plant and tree facts May shares. And they all were, including the details about a 5,000-year-old yew tree in Scotland—considered to be the oldest living tree in Great Britain.
Towards the novel's end there's an addition to the plot I found unnecessary, but not implausible enough to drag down the rest of the story. It caused only mild distraction from the contentment evoked by the book's introspective nature. Rules for Visiting is an endearing and humorous look at friendship and the stages of life. The kind of wry, perceptive reading that we all need from time to time.
Welcoming a friend into your life is like folding egg whites: it should be done gently and with good technique, leaving lots of air.
This post contains affiliate links which means if you click on a link and make a purchase of any kind, I get a small commission (at no cost to you).
*I received a free copy of this book from Penguin Press in exchange for an honest review.*
Related Posts