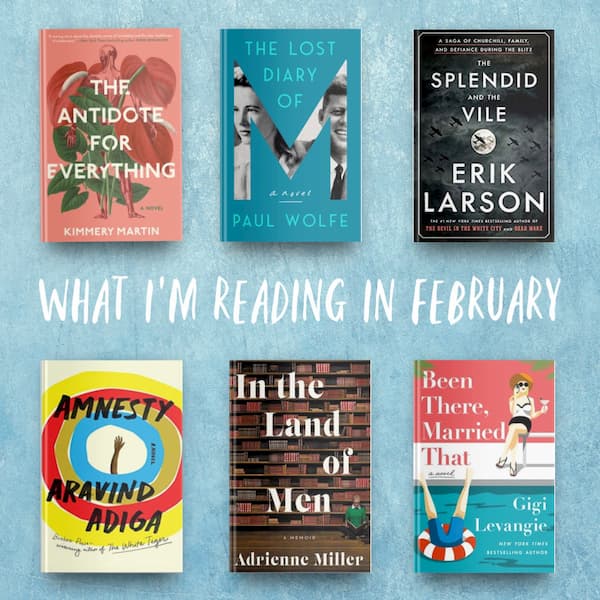 I mentioned on Friday that January's reading was a bit bipolar. I didn't realize that it was an even worse month for many of the readers and bloggers I know. People were quitting books left and right. Thankfully, I didn't have that, but it was more cloudy than sunny so I'm ready for February. Here are the six books I'm hoping restore my reading mojo. I need to feel some bookish love!
Adrienne Miller get the job many of us English majors dream about—being an editorial assistant right out of school. So what if it was at GQ in the 90s when the testosterone was visible in the air? In the Land of Men is her memoir about a career that never left the world of men as she went on to become the first female literary editor of Esquire. If that's not enough, she worked extensively with David Foster Wallace—which makes my brain hurt to even think about. I'm fascinated, to say the least.
Author Gigi Lavangie Grazer is the ex-wife of well-known movie producer Brian Grazer so few know the ins and outs of Hollywood better than she does. Just as importantly, she knows how to write. I've read all her other books and they all ranks as really good entertainment. Been There, Married That sounds like it may be revisiting the past a bit as it's about a woman married to a big Hollywood producer who divorces her and tries to leave her with nothing. Hhmmmm…what could this mean? Real or unreal I'm ready for some light dishy reading.
An illegal immigrant from Sri Lanka is living in Australia when he finds himself with important details about a murder. What should he do? He's achieved a relatively normal life so does he risk losing it all by coming forward or does he stay silent? Amnesty is one of his life as he struggles with what to do. I feel as if this is going to fascinating from an ethical perspective in the light of today's xenophobia.
Much like Amnesty, The Antidote for Everything feels like a book for our times. Two doctors at a small Southern Hospital are told they can no longer treat transgender patients. One of the doctors is gay and refuses and is fired. The other is left trying to fight. This is not going to be easy reading, but feels very necessary as the current government is forcing their religious doctrine of hate on all of us.
I talked about this novel on the podcast so it's kind of old news, but The Lost Diary of M by Paul Wolfe is based on the missing diary of one of JFK's mistresses. What happens when it's found. The premise is there, but the writing has to be good or this could be bad.
The Splendid and the Vile by Erik Larson. I don't read a lot of nonfiction, but when I do I have more success with the narrative kind. And few writers do better with the genre than Larsen. I loved I Loved the Devil in the White City. Having said that, I couldn't finish In the Garden of the Beast but mostly because it made me so angry. I'm hoping this book about Churchill on the eve of WWII will be a hit all the way around.
How has your reading been so far this year? Any highs (or lows) you'd care to share?
This post contains affiliate links which means if you click on a link and make a purchase, I get a small commission (at no cost to you).
Related Posts