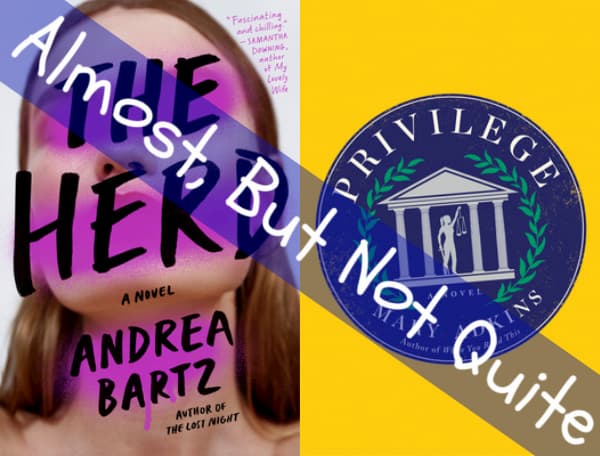 It's not an unusual phenomenon, especially in these crazy times when concentration is a foreign concept for most of us, but sometimes a novel is…almost, but not quite right. For me, the pull is always good writing and if there's a plot to go with it, it's an easy sell. It's when one or the other of these things is lacking that things get dicey. Both of today's novels had plot summaries that sounded smack in my wheelhouse and in one case, the author was an author whose debut novel I loved. I had high hopes for both, but both ended up being almost, but not quite.
A group of Harvard educated young women who come together behind their friend when she creates a members-only coworking space that empowers women? Yes. Then the founder disappears? Even better. This is what drew me into The Herd.
The charismatic Eleanor came up with the concept after achieving success with a cosmetics line and with the force of her personality brings Mikki on as a freelance graphic designer, and Hana, as a publicist. It's all new and exciting, catching the eye of social media and investors alike. When Hana's little sister, Katie, a journalist, arrives wanting to be a member while she works on a book, things start to feel a little off. Then Eleanor disappears. In alternating chapters Katie and Hana are the novel's narrators and as their stories unfold it becomes clear that as close as these women seem to be, they all have secrets.
Characters with secrets are the mainstay of a lot of fiction and if done well, no matter how big or little the secret is, it's enough. In this novel the secrets are many, but some are more difficult to understand than others. As in, why is this such a huge deal? That, combined with the almost relentless whining from Katie about virtually everything lessened my pleasure in The Herd.
Also, I realize this may sound petty, but I am really tired of book covers with women's faces scrubbed out in one way or another. It seems to be a trend, but I'm not a fan.
College based novels are always a draw for me. Privilege by Mary Adkins is set at a prestigious Southern university where the lives of three young women intersect with Tyler—a 23-year-old senior from a wealthy family. Annie is a shy scholarship second year from a small town who finds college to be as exciting as she hoped. Bea is there to study in a criminal justice program chaired by a lawyer she admires. Stayja is their age, but she doesn't go to the school right now because she needs a job, so she works in one of the coffee shops on campus.
Privilege is structured in alternating chapters told by each one of the girls. After the back stories of each girl, Annie steps in to describe how she met Tyler at a frat party. She wakes up the next morning, partially clothed, in his room with him. He says they got drunk and passed out. She has no memory, accepts his explanation enough to go out with him again. From there, we move to Bea, who has been assigned as Tyler's student advocate as Annie has accused him of rape. She finds herself torn between the belief that women don't lie about rape and the legal tenet of due process. To Stayja, Tyler is the cute guy who smokes with her on her breaks and offers help on getting back into school.
I believe that Privilege realistically reflects the endemic crisis of rape on college campuses and the ability of wealth to avoid consequences. All the ingredients are there in the novel, but they don't quite come together in a satisfying way. Adkins adds additional story lines that pulled my attention away from what felt like the novel's crux. Everything started out with a lot of ambiguity and nuance, but quickly became black and white in a way that pushed really hard. It is likely the truth, but I felt manipulated. However, I adored Adkins first book so my expectations may have been too high. I wanted great, but only found good. I'm willing to admit this one may be a bit of 'it's you, it's me'.
This post contains affiliate links which means if you click on a link and make a purchase, I get a small commission (at no cost to you).
Related Posts