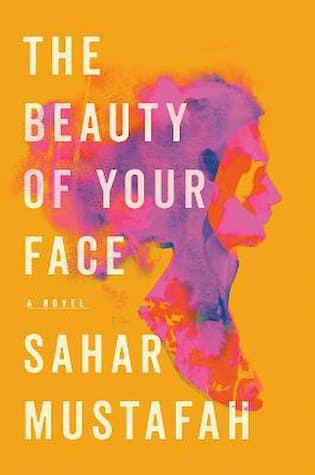 All of her career Afaf has been a teacher. Now, she is the principal of a Muslim school for girls in a Chicago suburb. She's also face-to-face with the man who has gone through her school shooting her students.  As the minutes between life and possible death tick by in The Beauty of Your Face, her mind travels to her past and the event that tore her family apart—the disappearance of her older sister, Nada in 1976. It led her to Islam, both her salvation and what may now be the reason she is killed.
Afaf's family emigrated from Palestine shortly after Nada was born. The move was necessitated by the Israeli occupation, but one Afaf's mother never accepted. Nada was the only thing that made her happy. Once she was gone both Afaf and her younger brother Majeed were left largely on their own to navigate a world of people who don't like them. Afaf rebels by getting involved with white boys, which does nothing but let them use her and make her despised by the other Arab students. It isn't until her father turns to Islam that Afaf finds a community that accepts her just as she is. She and her father bond as her mother refuses to join them and her brother aligns with her. When Afaf is in her late twenties she decides to wear a hijab. Her mother's apathy towards religion turns into outright rejection.
The Beauty of Your Face is both a story that's both singular and recognizable. Family dysfunction, the pangs of growing up, and self-discovery are the components of many lives. What is harder to understand is a parent who will not love you, people who despise you without knowing you, and being summarily judged and labeled for a personal religious choice. Afaf goes from being an accepted member of her professional community and an anonymous face in public places to being spit on and yelled at because of her hijab.
She wants to ask these strangers how she—one woman, a mother and wife, a teacher, if they'd only ask—can be a menace to them. How can she make them unafraid? 
This is the part of The Beauty of Your Face that drew me in. Author Sahar Mustafah writes simply, but eloquently of Afaf's path to Islam and what the religion gives her. There is also her relationship with her mother when, as an adult, she tries to be a good daughter to a woman who, increasingly, seems to despise her. There is layer upon layer in these two characters, of the kind that evoke questions even as it provides answers.
What was of less interest is the shooter. Mustafah writes from his perspective for a portion of the novel, but it is more of a rough outline, a sketch of a person. This may be as she intended—not glorifying the killer. I understand that, but then don't write his perspective at all. Instead, he takes up space without adding anything to the narrative. His point-of-view, as well as an additional plot line, detracted somewhat from the overall feel and flow of the novel. Thankfully, Afaf's personal and religious journey with all its pain and beauty is enough to sustain The Beauty of Your Face.
Shelter-in-Place reads (Similar books you can download from your library): Salt Houses, A Place for Us.
This post contains affiliate links which means if you click on a link and make a purchase, I get a small commission (at no cost to you).
Related Posts